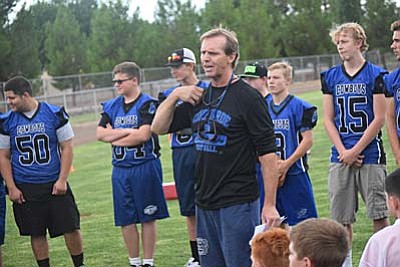 Camp Verde Head Coach Steve Darby addresses youth football camp at the first Camp Verde Youth Football Camp. (Photo by J.T. Keith/VVN)
Stories this photo appears in:
Not even a light drizzle could keep future Camp Verde Cowboys, and their parents, away from attending Coach Steve Darby's first youth football camp. Some 61 campers from ages 5-13 years old gathered on one knee as Coach Darby explained the drills they would be going through, with his players supervising each station (four) in all.