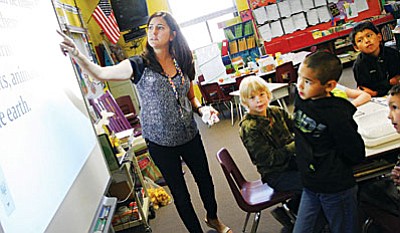 Students from Stephanie King's second grade class at Camp Verde Elementary School learn to reduce, reuse, recycle and reverse water pollution. (Photo by Bill Helm)
Stories this photo appears in:
Teacher shortages becoming more common in Arizona and abroad
VERDE VALLEY - When Proposition 123 passed, schools across the Verde Valley committed the extra revenue to teacher salaries. Some districts even pledged those wage adjustments months before the vote, with a desire not only to reward their educators for their hard work - but also a desire to retain their services.