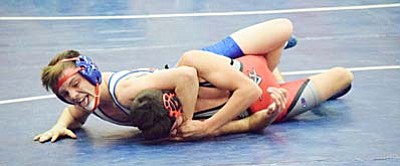 Hayden Uhler, top, attempts to pin an opponent during the 2015-2016 wrestling season. He earned his third-straight State Championship and will look to make it four in a row this upcoming season. Uhler is one of the top wrestlers to be produced from Chagolla's Weekend Wars. (Photo by Greg Macafee)
Stories this photo appears in:

I would like to thank all the Coaches and parent volunteers for their dedication and commitment towards supporting the youth in their communities. I recognize your efforts as being life-long and bone deep.