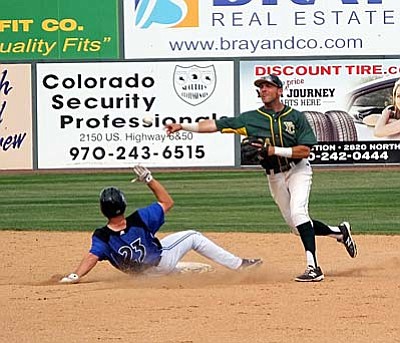 Yavapai College shortstop Ramsey Romano make a throw to first base on a double play against Iowa Western on Thursday in the Junior College Baseball World Series in Grand Junction, Colorado. (Courtesy Photo by Joseph Harold, Montrose Daily Press)
Stories this photo appears in:

For the first time in a decade, Yavapai College's baseball team has qualified for the championship of the JUCO World Series after notching a 7-3 victory over NJCAA No. 4-ranked Iowa Western in an elimination game on Thursday, June 2, at Suplizio Field.Five-time national champion San Jacinto-North of Texas (3-1 record in the Series) lost to Chattahoochie Valley of Alabama (3-1), 13-3, in the winners' bracket final Thursday night. San Jac and Chattahoochie will play again at 6 p.m. today, June 3, to decide which team faces Yavapai (4-1) in the national title game at 6 p.m. Saturday, June 4.