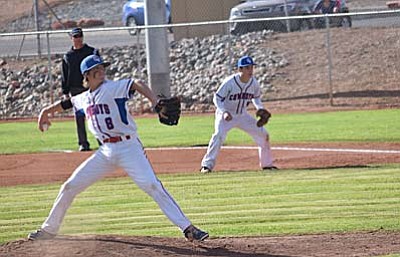 Logan Conrad (8) throws home during the first-inning of their match up with the Parker Broncs Tuesday afternoon at Camp Verde High School. Conrad limited the Broncs to one-hit in their 10-0 victory. (Photo by Greg Macafee)
Stories this photo appears in:

There are not many things better than playing in front of your home crowd. The Camp Verde Baseball team got their third-win of a three game home stand Tuesday night as they defeated the Parker Broncs 10-0.