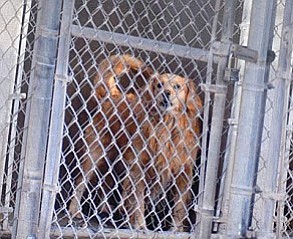 ne of the five dogs still in quarantine at the Verde Valley Humane Society is seen behind quarantine warning signs. The five dogs will be tested Saturday to see if the facility can reopen back to normal operations. (Photo by Yyto Starinskas)
Stories this photo appears in:

The Verde Valley Humane Society has had to put down nine dogs in its efforts to battle a canine distemper outbreak discovered in early February, according to Shelter Manager Angie Hare.