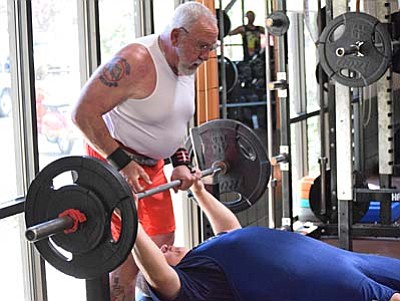 Tim McKeever (standing) spots Dan Razo as he trains for his next meet on June 26 at Captain Crossfit in Prescott. Razo will attempt to break his 4th World Record in his 4th straight meet. (Photo by Greg Macafee/VVN)
Stories this photo appears in:

"One day my dad asked me if I would rather be a singer or a bowler," 42-year-old Dan Razo said after finishing up another rep on the bench press at the Cottonwood Recreation Center. "I told him neither, I want to be a weight-lifter. Cause that's my No. 1 goal, to be a weightlifter."