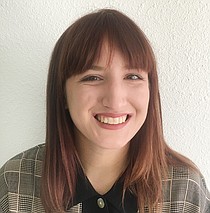 Kelcie Grega is the Associate Editor of the Verde Independent, Camp Verde Bugle and Kudos entertainment guide.

928-634-2241 Extension: 6034

Twitter
Recent Stories
5 things to know about the Verde Valley Job Career & Education Fair
On April 4, participants will have the chance to apply for jobs, learn how to fill out their resume and how to conduct themselves professionally in interviews. The event will take place at the Verde Valley Fairgrounds from 1 p.m. to 5 p.m

Riverfront Commons property on city wish list
COTTONWOOD -- The City of Cottonwood has for years entertained the idea of purchasing a space on Main Street to consolidate a significant portion of its departments and services.