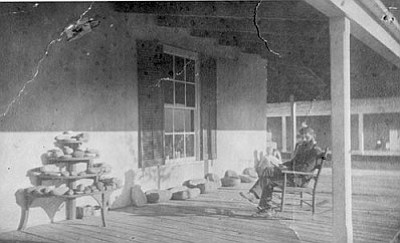 Originally Published: January 4, 2011 2:38 p.m.
CAMP VERDE - Dr. Edgar Mearns did more to publicize the Verde Valley's archaeological treasures than anyone.
From 1884 to 1888, the former surgeon at Fort Verde documented every major pueblo within a 50-mile radius of the fort. He was also the first to excavate several of the sites, including Montezuma Castle and Clear Creek Ruin.
Then in 1890 he wrote the first nationally circulated article on the valley's ruins. It created widespread interest among archaeologists and was the impetus for at least two subsequent surveys along the Verde River and its tributaries.
But Mearns also began a practice that, with the exception of dwellings themselves, has seen most of the valley's treasures carted off to someplace else.
"Virtually every major artifact collection from the Verde Valley is some place other than the Verde Valley," says Jim Graceffa, president of the Verde Valley Archaeological Center.
According to Graceffa, the continual drain of artifacts is one of the primary reasons his group is advocating for a center.
"There are lots of good reasons for creating an archeological center in the Verde Valley, but the one that keeps coming up most often is continual loss of artifacts. They are everywhere but here.
"And it's not just those items found in research or regulatory compliance excavations; it's also a matter of finding a place for private collections. We get asked all the time to find a home for private collections. If we don't make one, they will also find their way out of here," he says.
For his part, Mearns sent wagonloads of items to New York's Museum of Natural History. The two subsequent expeditions of Cosmos Mindeleff and Jesse Walter Fewkes saw artifacts sent off to the Field Museum in Chicago, the Smithsonian and the Peabody Museum at Harvard University.
When the National Park Service became managers of Montezuma Castle, Montezuma Well and Tuzigoot, they were forced to send what couldn't be displayed on site to their Western Archaeological Conservation Center in Tucson.
Over the years dozens of other archaeologists have sent items to the Museum of Northern Arizona in Flagstaff, Sharlot Hall Museum in Prescott and the Arizona State Museum at the University of Arizona in Tucson.
"I thing a Verde Valley repository is an idea that's time has come," says Stewart Deats, an archaeologist with Envirosystems Management, a Flagstaff company that does archaeological excavations for both government agencies and private projects.
According to Deats, the decision as to where an artifact goes after it is unearthed depends first on whose land it is found and secondly where the best repository might be.
"Some state and federal agencies have their own repositories. If it's found on private land it is usually a decision of where it would be most appropriate. But wherever it goes, it must go to a repository that complies with federal standards," Deats says.
A recent archaeological excavation in Clarkdale, done for regulatory compliance on private land, unearthed beautiful pieces of turquoise and shell jewelry, complete pieces of pottery and stone and bone tools. It all went to Prescott.
"I was at the Amerind Foundation Museum in Southern Arizona recently and saw an exquisite little pot found in a cave on Mingus Mountain," says Bud Henderson, board secretary for the VVAC. "We will never see it here again. There is a whole lot of stuff that is just gone."
More like this story