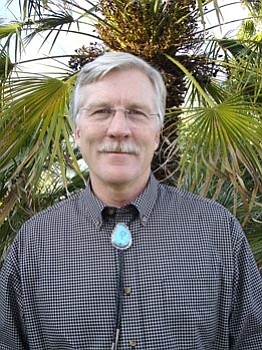 Originally Published: October 20, 2011 3:56 p.m.
CAMP VERDE - Since the idea was first dreamed up, the founders of the Verde Valley Archaeology Center have realized that if they wanted to be taken seriously, they needed to hire a director with stature in the archaeology community.
That wish came true this week when the center's board of directors accepted an offer from Todd Bostwick, PhD, to become the center's first executive director.
Bostwick is one of the most respected names in Southwest archaeology, having served as the City of Phoenix archaeologist at Pueblo Grande Museum for the last 21 years.
He is also the author of numerous books on archaeology, archaeoastronomy and history, has taught archaeology at Arizona State University and Northern Arizona University and is the 2005 recipient of the Governor's Award in Public Archaeology.
"This is huge. It's a dream come true," says VVAC president Jim Graceffa. "If you want respectability in the world of archaeology you must have someone who has earned the respect of others, at the helm. The great part is that Todd believes in our mission."
The vast body of Bostwick's work has focused on the Hohokam culture, the ancient people who lived in the Salt River Valley, whereas the center is focused on the Southern Sinagua who once inhabited the Verde Valley.
That, however, will not be an issue, according to center founder Ken Zoll.
"Todd's master's thesis was on the Sinagua and his work after college was at Black Mesa with the Hopi. He has always had an interest in the Sinagua but went south because that's where the jobs were.
"Now that he has retired his interest is in returning to where his career began and learning more about the Sinagua. He sees it as a challenge," Zoll says.
Graceffa credits Zoll for having brought Bostwick to the center after the two became acquainted while Zoll was pursing a theory that some of the petroglyphs at V Bar V Heritage Site on Beaver Creek served as a solar calendar.
"One of our board members is always saying if you want something you have to ask. Ken asked and asked again and here we are," Graceffa says. "Todd has already hit the ground running."