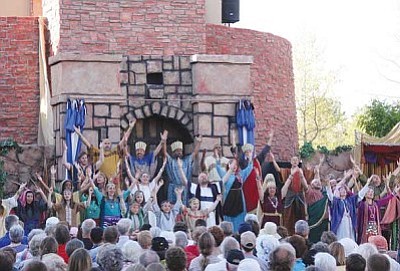 Originally Published: December 30, 2013 1:19 p.m.
Open auditions for local theatre company
Feb. 2
Following on the success of their recent Christmas production, Potter's Hand Productions announces the auditions for "Esther! For Such A Time As This," a musical stage version of the book of Esther. An open casting call will be held on Sunday, February 2, 2014 at 3:00 pm at Wayside Bible Chapel, 401 N SR 89A in Uptown Sedona.
Performers of all ages should be prepared to speak, read, sing and/or dance anything they are comfortable performing. Performances of "Esther!" will be in April at Tequa Marketplace in the Village of Oak Creek, Sedona. For more information, please see www.PottersHandProductions.com.
Verde Valley Computer Club January Calendar
Jan 02 Board Meeting 6:30 p.m.
Jan 06 Linux SIG 4:30 p.m.
Jan 09 Genealogy SIG 6:00 p.m. (meet at Family History Center, west side Mormon Church 1377 E Hombre Dr, Cottonwood).
Jan 10 Internet SIG 4:00 p.m.
Jan 17 Digital Camera SIG 4:00 p.m.
Jan 18 General Meeting 9:30 a.m. Topic: 'Handheld Computing' presented by Ted Lubowsky of AZ Cellular.
Jan 18 PC Tune-up Clinic 11:00 a.m. Bring laptop w/ power cord or tower. No hardware work done, software issues will be addressed. Donation fee $25 per hour (minimum 1 hour).
Jan 24 Fourth Friday SIG at 5:00 p.m.
Public is welcome to attend. Except for the PC Tune-up Clinic, the meetings are No Charge.
Clemenceau Building, Willard Street at Mingus Avenue, Cottonwood. Website www.vvcclub.com Dave 639-0106
Erev Shabbat at JCSVV
Jan. 3
On Friday, Erev Shabbat services at the Jewish Community of Sedona and the Verde Valley begin at 7:30 p.m. led by Rabbi Alicia Magal. The Erev (Eve of) Shabbat service is a journey that everyone takes, following the "ladder" of the service through blessings, prayers, songs, and silent prayer, climbing "up the mountain" and returning to a state of groundedness with a sense of peace and a joyful heart. The Oneg refreshments are sponsored by Marsha and Hari Bunn in honor of Rita Bunn's birthday.
Call the office at 928 204-1286 or visit www.jcsvv.org.
Join the Cottonwood Community Band
Jan. 6
Dust off your instrument and come join the Cottonwood Community Band, a 45-member concert band that rehearses Monday evenings beginning Monday 7-9 p.m. at the Cottonwood Middle School band room (Room 301). The band has several performances planned for spring 2014. All instrumentalists who read music, especially trumpeters, percussionists, trombonists, and clarinetists, are welcomed. There is no audition. For more information about the band, email cottonwoodcommunityband@gmail.com or visit the band's website at http://cottonwoodcommunityband.org.
Jordan Maynard Volunteer Landscaping Day
Jan. 11
Homes for Our Troops (HFOT) and Cottonwood residents turn their energies toward the final phase of readying the newly constructed home for US Marine, Sgt. Jordan Maynard, his wife, Jennifer and their son, Jay, by hosting the Jordan Maynard Volunteer Landscaping Day. The party is set for Saturday beginning at 9 a.m. at 2680 S. Anica Lane in Cottonwood. To reach Anica Lane from the city of Cottonwood, travel past Mingus Union High School on Camino Real to East Quail Springs Ranch Road. Turn right on Anica.
Volunteers as young as the age of 6 can attend with a parent old are welcome to join in the fun. All materials will be provided; but in order to get the yard planted, workers are requested to bring gardening tools such as, wheel barrels, shovels, rakes and gloves. Wear sturdy shoes and a long sleeved shirt. In an effort to keep "the troops" motivated, workers will be treated to water and soda and mid- morning snack items will be available as well as a hearty pizza lunch at 11:30 a.m.
For more information concerning the landscaping contact Event Coordinator, Doreen Lewis at dlewis@hfotusa.org and/or 508-823-3300. Register as a volunteer by contact either Mayor Diane Joens at 928-634-4112 or Jeri Strande 928-649-3374.
Dance with Sentimental Journey
Jan. 11
Enjoy the music of Sentimental Journey and welcome in 2014 at the Clarkdale Clubhouse Saturday, 6:30 to 9:30 p.m. The fabulous 16-piece band will have you dance the night away. Admission is $10 per person, and refreshments are available.
The big band dances are hosted by the Clarkdale Historical Society & Museum. The Clubhouse is located at 19 N 9th St. For more information, call Gail Daniels (928) 634-9346.
More like this story