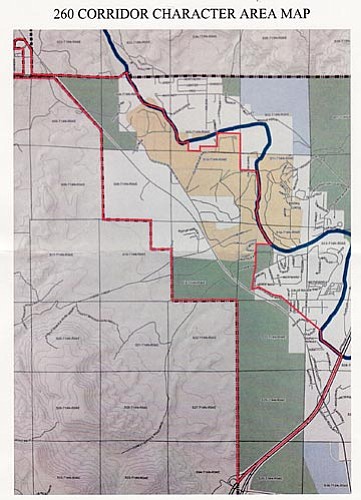 Originally Published: September 9, 2014 3:34 p.m.
CAMP VERDE - Continuing forward with the character areas approach to land use, the Planning & Zoning Commission agreed to set aside the Land Use map at its Aug. 28 General Plan work session.
Thursday, the commission and the Town's Community Development Department will discuss proposed goals and implementation strategies for the 260 Corridor, one of the 10 character areas to the General Plan's Land Use element.
Proposed goals for the 260 Corridor include promoting regional commercial and employment opportunities, promoting tourist-related destinations and uses, and supporting amenities, design and improvements.
For each of the next several work sessions, commission will attempt to reach consensus on at least one character area. Once agreement has been reached on the detailed goals and implementation strategies for each of the 10 character areas, the goals and implementation strategies of the Land Use element as a whole "will fall into place," commission chairman B.J. Davis said.
Davis also said that the General Plan sub-committee has been "extremely helpful in clarifying what was appropriate" for the goals and implementation strategies of the 260 Corridor. "They helped clarify that commercial development should be the primary goal of the 260 corridor," he said.
The Land Use Element's other designated character areas are Pecan Lane, Middle Verde, Finnie Flat, Downtown, Salt Mine, Quarterhorse, Clear Creek, McCracken and 260 East. The Land Use element is one of the 10 elements of the General Plan.
The other elements are Open Space & Recreation, Growth Area, Transportation & Circulation, Water Resources, Environmental Planning, Economic Development, Housing, Cost of Development, and History & Culture.
Camp Verde residents last ratified the 10-year plan on March 8, 2005. Once adopted and ratified, any changes to the General Plan would require a council-approved amendment, which based on specific criteria is categorized as either minor or major. There is no limit to the amount of minor amendments that can be made. Major amendments are limited to one each year.
According to Community Development Director Mike Jenkins, it is "very important" that citizens come to the meetings to give input.
Thursday's General Plan work session will be held at 6 p.m. in council chambers, 473 S. Main St. #106. A copy of the agenda can be found at: www.campverde.az.gov/government/town-clerk/agendas-minutes-actions/p-z-agendas-and-minutes/.
-- Follow Bill Helm on Twitter @BillHelm42 and Instagram @VerdeValleyNews