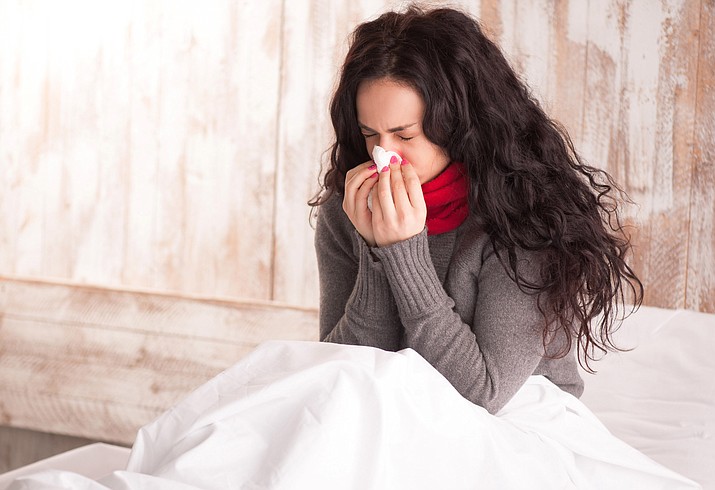 Originally Published: December 10, 2016 3:11 p.m.
TO GET A SHOT
The Yavapai County Community Health Services Department gives flu shots by appointment at all three of its locations: 1090 Commerce Drive in Prescott, 3212 N. Windsong Drive in Prescott Valley, and 51 Brian Mickelsen Parkway in Cottonwood. Call 928-583-1000 to make an appointment.
This is the time of the year to spread holiday cheer to family, friends and colleagues, but it can also be a time when we spread nasty germs that those same folks might prefer we keep to ourselves.
The 2016-17 influenza season kicked off in October, but by mid-December it is likely to become more prevalent just as more people tend to be going to places where there are crowds and the possibility of catching germs associated with everything from just a nasty cold to the actual flu.
To date, Arizona has confirmed 117 flu cases; Yavapai County has confirmed 15, the highest in the state next to Pima County, said David McAtee, public information officer for the Yavapai County Community Health Services department.
Those figures likely seem low, but as McAtee explains only about 5 percent of all flu victims actually get tested such that the case is then documented to state health authorities. Many people who get the flu just try and "power through" rather than seek medical treatment. Flu numbers also spike just before and after the holidays, but the season can last through early spring, he said.
Flu, though, can prove debilitating to even normally healthy folks, costing time away from work and keeping one from celebrating the holidays. For the very young and old, who may have compromised immune systems, or those with other medical conditions, the flu can be very serious, even fatal if not properly cared for in a timely fashion, according to local and national health officials.
For those who might wonder whether they simply have a nasty cold virus that will pass in a couple days, or actually have contracted the flu, Yavapai Regional Medical Center Physician's Assistant Maria Boedigheimer has some advice.
"Unlike a viral respiratory infection, or the common cold where you don't have a fever and it is more gradual, influenza makes you feel lousy in a matter of hours," Boedigheimer said. "You feel like you've been hit by a truck."
Most colds are confined to general congestion and runny nose, and people are not incapacitated, local and national health officials said. The flu comes with a combination of respiratory symptoms, sore throats, ear aches, fever, muscle pains, chills, and can cause extreme fatigue that may last for several days.
As for what should prompt a doctor's visit, Boedigheimer suggests when it comes to the possibility of a flu infection "come sooner than later."
"We have antiviral medications if they are given within the first 24 hours, she said.
To avoid the flu altogether, however, is preferable, with prevention and inoculation the two answers, said McAtee and Boedigheimer.
The flu vaccine is recommended for anyone six months to those who have lived into their six figures. But time is of the essence, McAtee said.
"If you haven't gotten a flu shot, now is the time to do it," McAtee said, noting the annual shots take at least two weeks to become effective. Nasal sprays are not recommended this year for children or adults.
Anyone leery of vaccination should not be, Boedigheimer said.
"It's impossible to get sick from it," Boedigheimer said, stating the vaccine is not a live virus and though some might have an inflammatory reaction they cannot contract the virus from the shot.
Flu vaccines are covered by most private insurances and Medicare, with many local doctors offering the vaccine that is still plentiful, McAtee said. The Health Department also offers the vaccine for those with or without insurance; a $20 fee can be waived for those who cannot afford such a payment for either themselves or their children.
On the prevention side, McAtee and other health professionals say the best way to avoid catching, or spreading, the flu is proper hygiene, particularly regular handwashing. If someone sneezes, they should try to do so into their elbow, or if they do use their hands, wash them immediately. Hand sanitizer can be helpful, especially for wiping off door knobs and shopping carts, he and others said.
If someone is already sick, whether or not they are sure it is flu, they should stay home from work or from community places where germs can easily spread, McAtee said.
"If you've got it, don't spread it," McAtee said.
More like this story