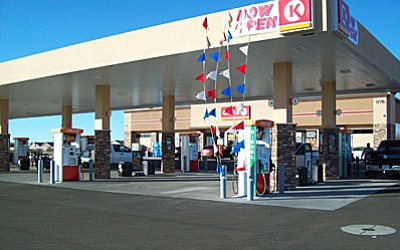 Originally Published: January 12, 2016 1:06 p.m.
CAMP VERDE - Circle K Convenience Stores is in the process of purchasing a 6,000-square-foot property on Finnie Flat Road just south of Bashas.'
With more than 3,300 locations across the country, Circle K plans to build a new store on the property and to model the new store after the company's superstore in Casa Grande, according to Camp Verde Economic Development Director Steve Ayers.
The Casa Grande location is the largest Circle K in Arizona, Martin said.
Circle K has not said whether the company plans to keep the location in Downtown Camp Verde in addition to the new location.
Besides selling fuel, Camp Verde's new Circle K will sell fresh food and drinks.
Recently, the owners of Circle K applied for - and were granted a liquor license through the Town.
Town Manager Russ Martin said the company will build its own parking lot to match up with the soon-to-be sidewalk on Finnie Flat Road.
Ayers also said there is a street plan for Finnie Flat Road that was created a few years ago. All new businesses that are built on that road must build the structure and parking areas to match the diagram.
Both Martin and Ayers said that the Verde Valley Medical Center being built is a critical piece in having new businesses come to Camp Verde.
Both also said that they hope this is only the beginning of the growth in Camp Verde.
-Follow Aryssa Carvalho on Twitter @aryssamashon and on Facebook.com/cvbugle