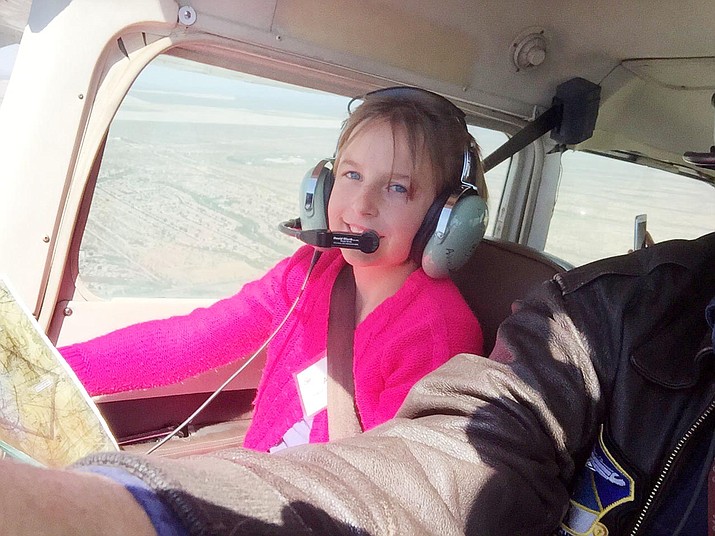 Originally Published: April 4, 2017 11:04 a.m.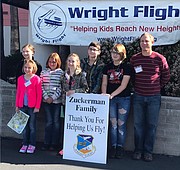 VERDE VALLEY – It isn't just about putting young students in the cockpit of an airplane.
The Wright Flight program, founded in 1986, is actually about reaching one's goals.
When Lance Barnes brought knowledge of this program with him this year to Camp Verde American Heritage Academy, it was a matter of motivating his new student body.
"The Wright Brothers spent four grueling years designing the first powered, heavier than air aircraft, motivating children today to never give up," said Barnes, principal at the Camp Verde campus.
What is the Wright Flight program?
Founded in 1986 in Tucson, the Wright Flight program is a voluntary program for students who qualified based on both their behavior in the classroom, as well as their grades.
At Cottonwood's American Heritage Academy, fifth grade teacher Ellen Dehnert was "so pleased" when two of her students showed interest in the youth aeronautical program.
"They had to go to several classes over the course of a few month and do lots of studying and homework to prepare for the flight test," Dehnert said. "Once they passed the test, they were eligible to fly an airplane."
Flight day is the zenith of the Wright Flight curriculum, where students learn about the Wright Brothers.
Students also learned about plotting flight paths, as well as historic lessons about flight. Throughout the curriculum, students learn that it is important to set goals, but more important to strive to achieve them.
American Heritage Academy is one of a handful of schools in Northern Arizona that participate in the Wright Flight Program in the Verde Valley, a program Barnes says "is extremely valuable."
Said Dehnert, her students "diligence and integrity are the qualities that have made them so successful."
"I am so grateful for this opportunity for my fifth graders and so very proud of their huge accomplishment," Dehnert said.
Flyday
April 1 was Flyday for students at both Camp Verde and Cottonwood's campuses, as six students not only rode in a Cessna aircraft, they also had an opportunity to take the controls and fly through the air.
Charisma Benda and Rachel Cluff from Cottonwood AHA, and Dylan Cooper, Ana Dawson, Abbie Martin, and Dalton Upton from the Camp Verde AHA campus met with Wright Flight program pilots at 7:45 a.m. at Tucson International Airport.
After a final safety course at the Executive Terminal at Tucson International, the prospective pilots each climbed aboard a Cessna aircraft and prepared for flight.
Seventh-grader Dylan Cooper wasn't the least bit nervous – until she boarded the airplane.
"My knuckles turned white and my hands were almost bleeding," she said. "I was gripping the control handle so tightly. I could hear all of the controls and voices over the headphones from the control tower."
Dylan estimates going "half-way to Nogales – and I was trying to keep the plane steady."
Though "nervous the whole flight," Dylan said that flying was "a really good experience for children and teenagers because it opens a variety of things to do and gives us ideas for a career."
Seeing 'what you can't see when you're on the ground'
Cottonwood AHA fifth grader Charisma Benda likened her Cessna flight to being in "a roller coaster, going up and then down."
"The best part of my experience was being able to fly the plane for a little bit," said Charisma, 10. "I thought it was so fun and a little scary at first, because it was my first time being in a plane. Once I was flying the plane, I was looking down to see how beautiful it was – things that you can't see when you're on the ground."
Surprisingly good for a first try
"I was so excited to get into the plane," said seventh grader Abbie Martin. "They called my name and then I got really nervous! Then I got into the plane."
Noticing that the Cessna was "small inside," Abbie described her experience behind the plane's controls
"The pilot told me I would push the throttle forward and take off. Before he could say, 'slowly,' I pushed the throttle and he said, 'That was surprisingly good for a first try!' We went up into the air and flew over the pilot's house and some copper mines near Tucson. There was water in the mines. We turned back and it got bumpy."
Also recognizing that the Verde Valley doesn't "have a lot of these programs," Wright Flight is a great experience," Abbie said. "This program helps people get over fear and set good goals for yourself."
Sara Dawson, middle school language arts teacher at American Heritage's Camp Verde campus, said the charter school program "felt so honored to participate in such a memorable experience.
"I'm sure our students will talk about this for the rest of their lives," Dawson said.
For more information about the Wright Flight program, call 520-294-0404.
Or visit www.wrightflight.org.
-- Follow Bill Helm on Twitter @BillHelm42