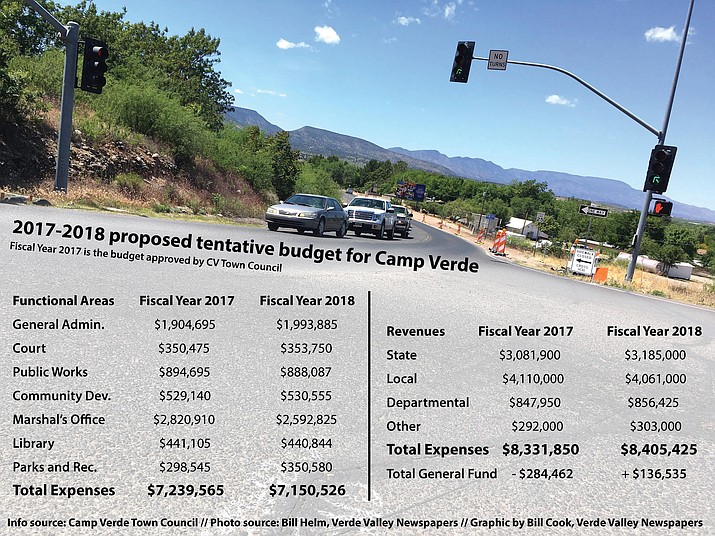 Originally Published: April 29, 2017 2:08 p.m.
CAMP VERDE – Expansion. Protection. Maintenance.
Those three words sum up the Town of Camp Verde's strategic plan chart for fiscal year 2017-2018.
The plan's core issues are protecting natural resources, maintaining public safety and planned business growth, and expanding public service infrastructure, recreational facilities, community recreation programs and services, and increasing economic development efforts.
With this chart strategically located near the front end of the Town's proposed fiscal year 2017-2018 budget, the strategic plan and the budget are clearly connected, said Town of Camp Verde Finance Director Mike Showers.
The plan is to help focus on both short-term and long-term needs, a prioritization of the Town's five-year Capital Improvements Plan and the overall Town budget.
At 7 p.m. Monday, May 8 in the Community Center gymnasium, the Town of Camp Verde will present its proposed, tentative budget for fiscal year 2017-18 in a public forum setting.
Town staff encourages all citizens of Camp Verde to discuss services, projects and the overall allocation of funds within the major operating components of the Town.
What's the bottom line?
Camp Verde Town Manager Russ Martin has projected a revenue of about $8.4 million with general fund expenses expected to be about $7.15 million and another $1.1 million allocated to Capital Improvements Projects and debts, a profit of about $136,000 in the upcoming fiscal year.
Though Showers said that the profit would likely provide "wiggle room" for decisions by Town Council through the year.
Fiscal year 2017 was a 'tight year'
The .65-percent sales tax increase brought in more than $1 million in additional revenue in fiscal year 2016, Showers said. This past year – fiscal year 2017 – has been "a tight year," he said.
"That year prior was an explosion," Showers said. "Total sales tax in fiscal year 2016 was $3.9 million, up from $2.86 million the year before. That's a huge jump. The biggest impact of that was the .65-percent, which we had a full year of in 2016 but only a quarter [year] of it in 2015."
But this past year, the sales revenue has not been as strong as the previous year, Showers also said.
Through the mid-way point of FY 2017, the Town had brought in only $3,793,475, which would project to about $7.6 million for the full 2018-2018 fiscal year.
Building a budget for FY 2018, the Town this year is "trying to be conservative," Showers said.
Capital Improvements fund
For fiscal year 2017-2018, the Town has budgeted about $1.5 million on Capital Improvements projects either starting or continuing this year, with more than $400,000 coming from Highway User Revenue Funds (HURF).
Those projects include road maintenance, the new community park, Rezzonico Park, remodel of the Community Center kitchen, re-roofing of the Community Center gym, sidewalk and streetscape work along Finnie Flat Road, and miscellaneous projects.
Kathy Hellman, director of the Camp Verde Community Library, would like "to see weed control cloth and gravel put down on the library grounds that have been landscaped."
The library's landscaping was handled by volunteers and was funded by donations from both APS and community volunteers, Hellman said.
"Finishing the project would save time and money for Town employees – Public Works – who must maintain the property, keep the weeds from spreading, and reduce water use as the weed control and gravel helps keep the soil moist," Hellman said.
Hellman said she would also like to see the Town of Camp Verde update and redesign its website, a site she said is "not scalable to smartphones or tablets."
"We are not able to provide many common services to our public, such as, online registration, online payments, fillable submitted online, community alerts and reporting and much more," Hellman said. "People seeking job applications and other information are often frustrated by our current website. It is time to update it."
From the public
One request Hellman has received at the library is that handicapped parking be from the south side of the library to the west (front) side, so that the path from the vehicle to the front door is shorter.
"This would take some investigation with Public Works and possible rethinking of the way the front parking area is used," Hellman said.
The May 8 public forum is scheduled from 7 p.m. until 8:30 p.m. at the Community Center Gymnasium, located at the corner of Main and Hollamon streets.
A copy of the proposed tentative budget can be found at http://www.campverde.az.gov/wp-content/uploads/2010/08/FY18-Budget-Operations-Presentation-to-Council.pdf.