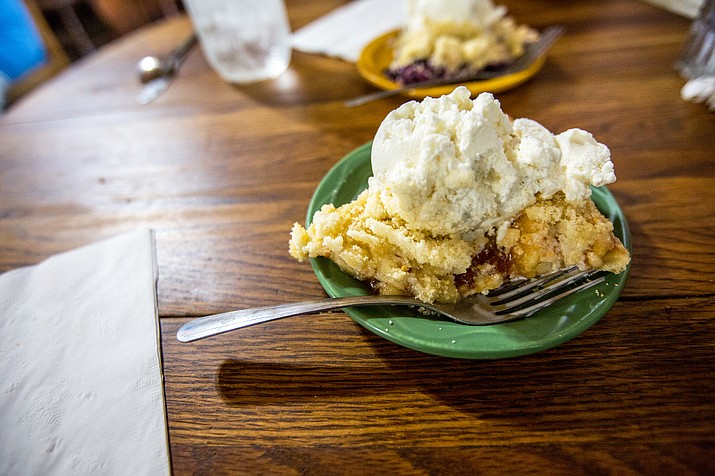 Originally Published: August 29, 2017 12:56 p.m.
BLACK CANYON CITY – Just west of the I-17, about 50 miles north of Phoenix, lies a dusty plaza of centuries-old buildings that have been touched up and remodeled into rock shops, farmers markets and artist galleries. Nestled in the center of it all is Rock Springs Café, one of Arizona's oldest attractions.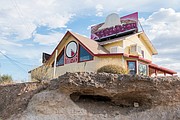 The café falls right around the edge of Yavapai County and is often referred to as "the place with the pie," and according to kitchen manager Angel Brunk, that's why most people visit.
"We're famous for the pie. That's what draws a lot of people," said Brunk. "They know us as the pie place. It's about forty percent of our sales."

Drivers can recognize the plaza by spotting a pie sign on the edge of The Artist's Den, a local gallery featuring over 35 artists.
The highway spills you gently into the plaza, revealing rustic delights such as wooden caravans and vehicles from the 1930s and 40s.
Rock Springs Café was originally a military encampment, providing water and supplies for those making their way up the mountain. In 1918, Ben Warner opened up a hardware store in what is now the café, and by 1924, he had built a store, hotel and restaurant. Almost a century later, Rock Springs Café continues as the oldest operating pie place in Arizona since its statehood.

Now, as the highway buzzes with summer travel, a small construction team works calmly on a new mezzanine for the café, which is expected to be complete for Rock Spring Café's centennial in 2018.
"They are going to put a few tables up there and a couch," said Brunk. "There will be artwork on the walls. They haven't decided what kind of merchandise they're going to put up, but it will be a little area for people to buy pie to go or to just go sit up there and have some pie."
During the 1920s and prior to the construction on the mezzanine, the second story portion of the café acted as a hotel, housing Hollywood western regulars such as Tom Mix and Jean Harlow.
Rock Springs Café owner Augie Perry said the mezzanine was originally an assignment for a design class at Arizona State University. Designer Kim Harris was teaching a design class when she came up with the assignment for her students: create a new look for the historic Rock Spring Café.
"[The students] had to follow [Harris'] guidelines, but there was no budget," said Perry. "I sat in for the final, and only one student had a design with a mezzanine. It ended up being the kernel for what we're doing now."
Despite the construction, the café maintains its charm as a pleasant pit stop for travelers, with a saloon to cool off from the dry, desert day and an eatery to refuel before hitting the road. For Phoenix native Erik Johnson, Rock Springs Café was the perfect stop for him on his way down from Sedona.
"I'd always seen [Rock Springs Café] on my way up. Finally, [my wife and I] we were just like, 'let's stop and try it out.'"
Johnson, his wife and their two pups enjoyed lunch on the back patio of the café which also hosts events such as weddings and various receptions.
"I got a club [sandwich] with some French fries and a slice of rhubarb pie," said Johnson. "I wish I had come to this place earlier. It's a great little touristy spot coming back down to Phoenix."
Since acquiring ownership of the café in 2008, Perry continues to think of new ways to expand Rock Springs Café while maintaining its historical aspects.
"Certainly, this is not your typical urban restaurant," said Perry. "People come here because of its history, and I see myself as a steward of that legacy." Perry also owns Augie's Restaurant in Prescott. Similar to Rock Springs Café, Augie's serves classic American comfort food. While the two restaurants share similarities when it comes to management, approach and business, Perry views style, concept and philosophy as the biggest differences.
"With both restaurants, they're still capital ventures, and we're still trying to be a part of the community. With [Rock Springs Café], there is that historical aspect to it, so a lot of what we do here is maintaining that history.
Rock Springs Café does see its fair share of returning customers, but the majority of patrons are travelers, those hoping to escape the valley heat or the mountain chill, but for the Springs, that relationship with its customers is what makes the café special.
"Honestly, I've been a waitress and a bartender and have seen returning customers," said Brunk." Yes, it's cool to have that one-on-one with your returning customers, but there is nothing better than meeting a customer who it's their first time walking in the door, and they leave with a smile on their face going, 'wow, I had the best time and the best food.'"
The menu at Rock Springs Café offers delicacies from homemade chips to southwest mac n' cheese, with burgers (can also be veggie), fried chicken and fish and barbeque.
Of course, you would be remiss if you did not try the pie. Try the mixed berry pie (Arizona's centennial pie), the JD pecan pie or the classic chocolate cream pie.