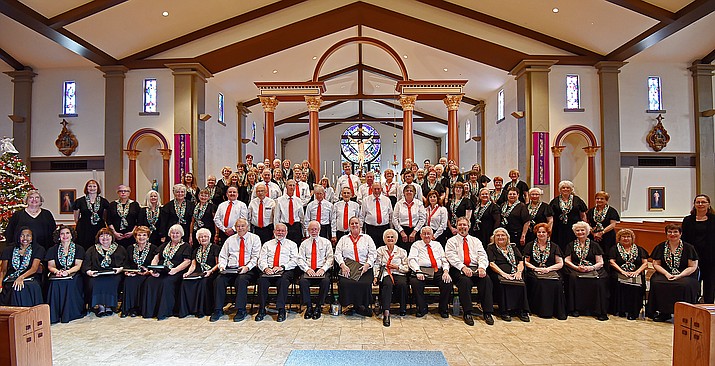 Originally Published: December 5, 2017 3:17 p.m.
"Get a Handel on Christmas" with the Verde Valley Voices this year. The concert, on Sunday December 17 at Immaculate Conception Church, begins with a pre-concert holiday sing-a-long at 2:30.

The choir sings at 3 p.m.

The Verde Valley Voices have been working hard to bring you a memorable concert full of holiday music you love. From "Jingle Bells" and "Deck the Halls" to the "Nutcracker Suite"; the Voices are ushering in Christmas with an entertaining afternoon that's sure to leave you feeling good about these holidays.
"I'm excited about the second half," says Joy Simons, choral director. "We're singing excerpts from Handel's Messiah and featuring soloists from within the choir. I think you'll be surprised and delighted by the quality of the solo work."
The Verde Valley Voices have been entertaining here for more than 20 years. Their Christmas concert has become a tradition for many residents. "The holidays just don't seem to get started until the concert" is a phrase heard frequently by members.
"I have just discovered these concerts." Allie Weathersby has been an avid concert goer for two years. "I love the sound of the choir. The music they sing is beautiful. It takes me back to wonderful memories of making music when I was younger."
Tickets are available now at Mount Hope Foods and Desert Dancer in Cottonwood, Jay's Bird Barn in Sedona, Thanks-a-latte in Camp Verde, the gift shop at Immaculate Conception Church, or any choir member. The cost is still $10 for adults; children 12 and under are free. Tickets will also be available at the door.

"Our goal is to keep quality music accessible to everyone," Joy says. We work on a shoe-string budget to keep tickets affordable. Bringing music to our world is our primary goal and greatest pleasure."
Mark your calendars for the Verde Valley Voices concert Sunday, Dec.17 at 3 p.m. (holiday sing-a-long at 2:30) at Immaculate Conception Catholic Church on 89A.
More like this story