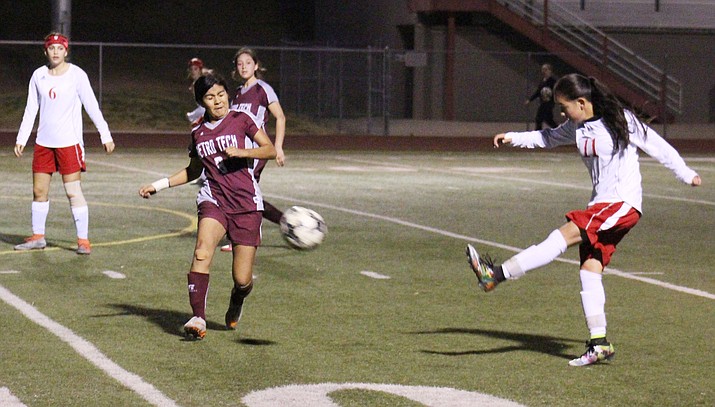 Originally Published: December 7, 2017 1:39 p.m.
Mingus Union girls soccer sophomore forward/midfielder Marli Urueta is scoring early and often.
In the first week of the season, she scored nine goals and had four assists.
"Marli Urueta is a tireless player who is eager and capable of playing from the start to the final whistle in every game," said Mingus head coach Joe Rongo. "She is manages to stay calm and in control of herself and the ball at all times. She can glide effortlessly through the opponents defense then fires a shot with both velocity and pin point accuracy."
Urueta won Mingus Union's female athlete of the month award, an accolade she won last year as well.
"Marli's self contained demeanor makes her an easy athlete to coach," Rongo said.
VVN: How do you think the season has gone for you guys?
Urueta: It's going well, we've been playing pretty good and we've been getting wins, so that's good.
VVN: Is it better than you've expected, to start off so well?
Urueta: Yeah it is, last year we did good and this year I didn't know what to expect because we were a young team but it's been good, it's been good.
VVN: How's it been going for you personally?
Urueta: Good, I've scored goals, I've assisted.
VVN: What's been the best game for you so far this year?
Urueta: Probably the first one, I scored two goals so it was good.
VVN: What does it feel like to score multiple goals like a hat trick?
Urueta: It's cool to give the team a bigger lead and you get more sure that you secured the win.
VVN: What's it like to get an assist, it seems like you guys up top are connecting really well.
Urueta: It also feels good because you're able to feed your teammates goals too, so you know to share the win.
VVN: How good is this sophomore class? It seems like you guys are going to be really good for another couple years too.
Urueta: Yeah. It's good, we played with each other last year, so we've connected and we know how we play now so we get better.
VVN: What's it been like for you? I feel like there's been some adjustments going to high school, playing in high school now, so what's it been like for you?
Urueta: It's been good, I'm just more connected and stuff, so we learn more about our styles of play.
VVN: So you probably don't have to do as much adjustments, not worry about the stuff, you can just go out there and play.
Urueta: Yeah because we already like know how we're going to play.
VVN: What's coach like?
Urueta: He's a good coach, I like him, he's really nice.
VVN: What are your goals for this year?
Urueta: I would say at least to get into State.
VVN: Do you know what you want to do after high school?
Urueta: Go to college, but I don't know for what, I don't know what I want to do.