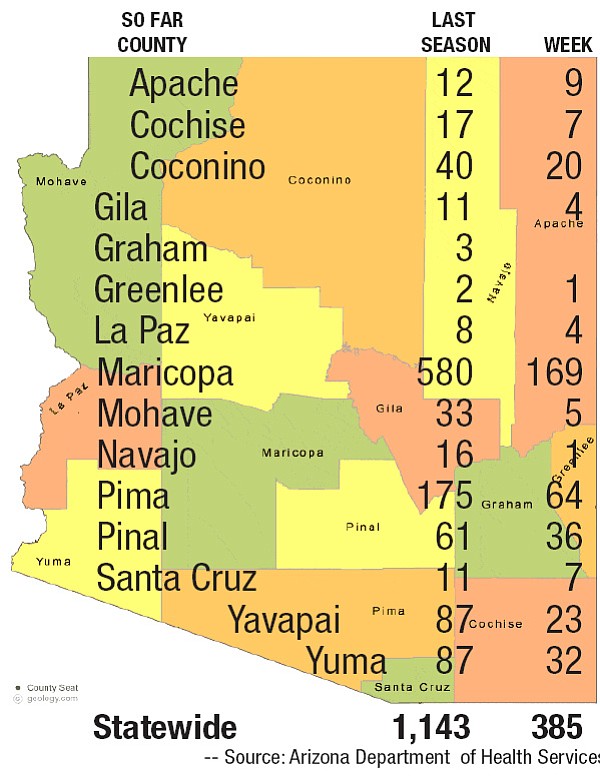 Originally Published: December 12, 2017 12:11 p.m.
A huge spike in the number of flu cases could portend a particularly bad year for the flu in Arizona.
New figures from the Arizona Department of Health Services shows there already have been 1,143 cases so far this season. That compared with 157 at the same time last year.
And that 2016 figure was not an aberration. The average to this date for the five seasons before this one is just 142.
What makes this number so potentially alarming is the timing: The number of new cases reported each week does not normally peak until February
But Jessica Rigler, the agency's bureau chief for public health preparedness, said she's not prepared to say at this point that the pattern being set -- 385 new cases this past week alone versus 43 the same week last year -- will lead to some new record in the number of people who get infected.
"Flu is really difficult to predict,'' she told Capitol Media Services. "It behaves differently every single season.''
Rigler said it may just be that people are getting the flu earlier in the season than normal. And that would mean the peak will be sometime before February.
"Or it's possible we'll have more cases overall this year,'' she continued. "It's jut a little too soon to tell.''
As to why the virus is showing up so early, Rigler has one theory.
"The majority of our cases are Influenza A, the H3 type, which is the same as what we saw last flu season,'' she said. And that last season, Rigler continued, lasted unusually long, into the summer months, with 100 or more cases a week into June and July.
"So it's possible that we never really saw a complete end to last year's flu season and we're just picking up where we left off,'' she said.
What about the possibility that this strain -- formally known as H3N2 -- has become resistant to the vaccine?
"It's difficult to say,'' Rigler said.
"Ususally we'll get some of those flu vaccine effectiveness studies that come out in the early part of next year,'' she explained. "But right now we really don't have any great estimate for the U.S. and how effective our flu vaccines are so far this year.''
Still, Rigler said the best defense is a flu shot -- even now.
"Even though we're seeing an increase in cases right now, this might not be the end,'' she said. "That's especially important right now as we enter the holiday season because people are spending more time with loved ones, including those that are very vulnerable to the complications from flu, like the elderly or infants.''
Still, she acknowledged, the protection is not immediate. Rigler said it takes about two weeks for the body to react to the killed virus in the vaccine to build up an immunity.
There's also the other method of self-defense: Washing hands.
"And if you are feeling under the weather, it's important to stay home from school or from work so you're not infecting others, and to cover your coughs and sneezes with your arms so you're not spreading germs around,'' she said.
Q&A with Terri Farneti, public health coordinator for Yavapai County Community Health Service
"Looking at the Communicable Disease chart of flu activity reported by Arizona Department of Health Services, it indicates we are having an earlier increase in flu cases – and this in only those cases being submitted by doctors – not to say those who have just stayed home sick and not gone to a physician. Last year spiked in late November and lasted later into the summer, whereas the year before flu season didn't spike until late January," said Farneti.
Q: New figures from the Arizona Department of Health Services shows there already have been 1,143 cases so far this season. That compared with 157 at the same time last year. According to a story from Capitol Media Services, there have been 87 reported cases in Yavapai County. How do these numbers compare to year's past?
A: Over 80 percent of cases have been flu A, which is what we expect to see during this period of the season. Of the subtyped cases, H3 is predominant, which is what the state has been seeing as well. Numbers are higher than expected than in previous years. The flu season is expected to be more severe than usual since the strain that is expected to circulate is H3N2, which historically has led to higher overall flu hospitalization and death rates.
Q: Are the flu shots effective this year?
A: As surveillance methods improve and use of rapid testing continues to increase; annual data results will increase as well.
The flu immunization is a four component vaccine comprised of two "A" and two "B" influenza strains. It was anticipated the US would follow suit to the tail end of Australia's flu season that ended with increased reports of influenza "A" (H3N2 strain). This particular component is one of the four parts of this year's flu vaccine (and was also in last year's flu vaccine). While no single component of the flu vaccine is 100 percent, it is still important (and recommended by the CDC) to get the annual flu vaccine. Preliminary estimates indicate the flu vaccine is only about 10 percent effective, but that is better than 0 percent protection.
Currently there are at least two strains of influenza circulating, with the "A" strain dominate at this time. This is typical of the patterns we've experienced in the past, where the "A" strain dominates early in the flu season and "B" strain dominates the latter part of the flu season; there is that risk and potential of contracting both the "A" and "B" strain of the flu. For that reason, again the CDC recommends getting the flu shot.
Q: What precautions can people take?
A: Influenza is a respiratory infection that can cause fatigue, fever, malaise, nausea, diarrhea, coughing, sneezing, congestion; and can lead to pneumonia. Ask your health care provider about obtaining the pneumococcal vaccine with your flu shot if you have not already done so; to help avoid/prevent pneumonia that is often a severe complication of the flu.
With all respiratory and contagious diseases, prevention methods:
Seek medical attention immediately

Cover your cough and sneezes

Wash your hands

Stay home when ill