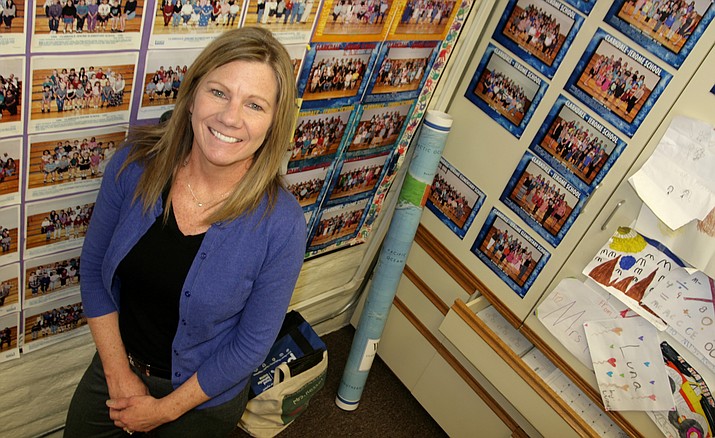 Originally Published: December 26, 2017 1:23 p.m.
CLARKDALE – When Cheryl Kessel started her college career, she planned to study business.
But the thought of three-piece suits and corporate politics didn't tickle her fancy.
"[I] soon realized that it was not for me," Kessel says. "A counselor suggested taking Introduction to Education, and I immediately felt at home. I knew then that teaching was what I would do with my life."
As a second grade teacher at Clarkdale-Jerome for the past 24 years, Kessel says she "love[s] seeing my students grow and develop new skills."
"At this time of the year in my classroom, lightbulbs are going off all over the place," Kessel says. "Kids are having a-ha moments daily, and it is very rewarding and exciting to watch."
According to Clarkdale-Jerome Superintendent Danny Brown, Kessel's strengths include "outstanding rapport with students."
"She provides not only high quality direct instruction but incorporates hands-on, project-based learning into the school day," Brown says. "She is highly respected by her colleagues and is a go-to person for advice and tutelage."
If there's anything Kessel doesn't like about being a teacher, it's "the pressure that teachers, and thus students, are under to perform to a certain level."
"Accountability is important, of course, but it's very disheartening to put a label on a teacher, a child, or a school knowing how hard we all work day in and day out," she says. "We need to celebrate all student growth, whether it meets the magical benchmark score or not."
TEACHING STYLE
"I really enjoy seeing kids come to an understanding of concepts on their own.
"I facilitate and assist that process as much as needed; however, I think it's much more meaningful to them if they feel they discovered it on their own.
"I love listening in on their group work discussions. It gives me a much better insight into their comprehension and misconceptions."
NOTABLE
"I have had the pleasure of being a supervising teacher to three teachers while they were completing their student teaching.
"They have all returned to our school to teach and are wonderful teachers.
"I've enjoyed watching them become seasoned educators. I will supervise another student in the spring."
QUOTABLE
"Teaching is tough! We do it because it's what we love to do."
"Everybody loves second grade! What's not to like about teaching second grade?"
"Mentoring budding teachers is tremendously rewarding.
DID YOU KNOW?
"My husband and I met in high school (Mingus Union High School) and have been married for 35 years. All three of our children attended Clarkdale-Jerome School and MUHS. My husband Tim was an English teacher at Mingus for 30 years."
Though Kessel has taught the past 24 years at Clarkdale-Jerome School, she has led classrooms for the past 25 years.
"I also taught one year, right out of college, at Oak Creek School in Cornville – the 1984-85 school year," she says. "I then stayed home for nine years to raise my children."
More like this story