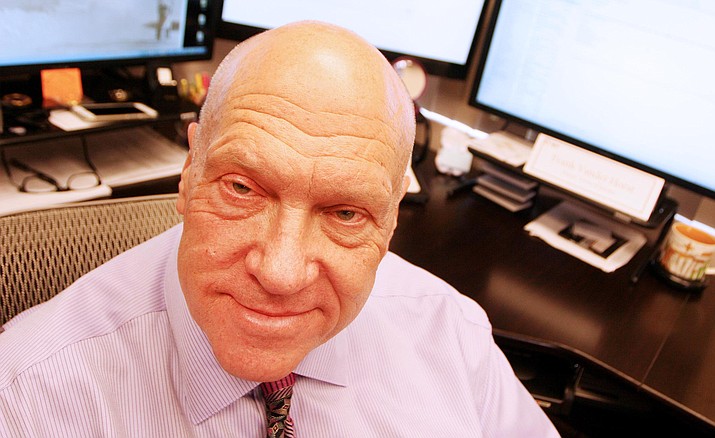 Originally Published: March 18, 2017 12:48 p.m.
VERDE VALLEY – Should the average person find himself working 14-to-18 hour days, he may think he's about to lose his mind.
Bu Frank Vander Horst is not the average person. In fact, the only loss the Jerome resident is feeling these days is at his waistline. Since taking over as mayor, Vander Horst has lost about 100 pounds, he estimates.
"Losing the weight has actually given me more time and energy," he says. "I don't need nearly as much sleep, and I have a lot more energy to get things done. Plus, I really needed to slim down for my long term health."
From the road, Vander Horst recently answered a few questions about his responsibilities, both professional and as a public servant.
The following is the second of a three-part conversation with Vander Horst, who besides serving as the mayor of Jerome, is also district board president for Valley Academy of Career and Technical Education, as well as E-Rate Manager with the Yavapai County Education Service Agency, which is his day job.
Verde Valley Newspapers: What do you like most about your work with Yavapai County?
Vander Horst: The great people I work with at YCESA, especially my Leadership Team colleagues. Having the opportunity and ability to help Arizona Schools and Libraries receive Federal funding for technology, even those with less than 30 students.
Many of our 80-plus clients are small and/or rural schools and libraries with no high speed internet available, and the little bandwidth they do receive is usually very expensive.

Verde Valley Newspapers: How does your work with YCESA help you better understand your service on the V'ACTE governing board?
Vander Horst: I meet with school district personnel every week: superintendents, business managers, and IT directors. One school district meeting includes the entire school board and the County School Superintendent on every visit.

Listening to various districts' issues and how they address these and solve budget challenges has helped me in all my roles, especially as a V'ACTE board member.
Also, by being around YCESA, I can't help but learn from the experienced people there.
Verde Valley Newspapers: What you have learned about new V'ACTE Superintendent Bob Weir and what do you believe are his strengths.
Vander Horst: He has a vision for what VACTE should become. He is very transparent and honest, highly ethical. He is open-minded. He is focused on the student. He is a continuous learner, which makes him that much better a superintendent every day. I believe that the day you stop being a student is the day you die.
He is the right person for the job.
Verde Valley Newspapers: As V'ACTE moves forward, what are your strategies and desires?
Vander Horst: Student-focused, complete transparency, fiscal responsibility, cooperative and collaborative relationships with our member districts, being responsive to the employment needs of the Verde Valley, and working with state legislation to positively impact JTEDs.
Verde Valley Newspapers: As Jerome's newest mayor, do you feel like you were prepared for the job?
Vander Horst: Yes, and no. Yes, due to the background I have in managing large organizations. And no, because in some ways, government is not like managing a business. Government is more about what do we have to do today. Versus business, where I ask myself daily: Where can I add value? How can I exceed the expectations that I have for myself? And what else can I accomplish today?
Verde Valley Newspapers: What have you learned about town government and town politics since you have taken over as mayor of Jerome?
Vander Horst: I read Stephen Covey's "Seven Habits of Highly Effective People" in the late-1980s. Never before have they been more important to heed than as mayor of Jerome.

Seek first to understand, then to be understood. Listen, listen and listen. I learned a long time ago that it is almost impossible to learn when your mouth is open.
Begin with the end in mind. Develop a vision and set expectations.

Be proactive. Don't wait for the world to happen to you, shape your own future. Every sunrise is met with expectations and the knowledge that only I can control what I will accomplish, what value I will add.
Put first things first. Have a personal mission, and then live it. Never compromise your principles regardless of the situation.
Focus on what's important and you won't be wasting time on things that are urgent but not important.
Use creative cooperation. Always respect and honor a different point of view, learn from it, build on it, find the optimal solution by incorporating other point of views into your own.
Always hone the edge. Learn, explore, make a mistake and learn from it, always improving yourself.
Verde Valley Newspapers: What do you like most about being mayor of Jerome?

Vander Horst: The people of Jerome. The opportunity to add value. Through extensive world travel, I realized the first time I ever came to Jerome that someday it would be my home. It is a real honor to serve my hometown.
Verde Valley Newspapers: What do you like least about being mayor of Jerome?

Vander Horst: I wish there was more time to focus on some of our issues that need real answers. Resources in a small town are always an issue – especially time, capital, volunteers, ideas and expectations.
Coming soon: In Part III of this interview, Frank Vander Horst will share his vision for the Town of Jerome.