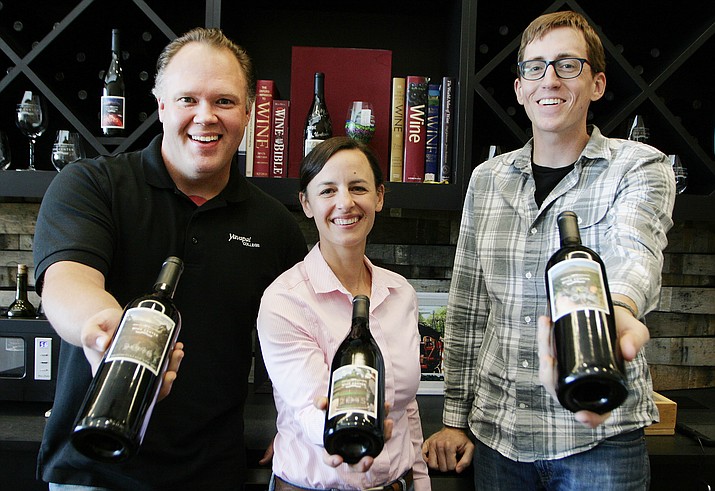 Originally Published: October 10, 2017 1:59 p.m.
CLARKDALE – It may be big news that the Tasting Room at Yavapai College's Southwest Wine Center exceeded forecasts for the fiscal year by almost $29,000.
But to the college's enologists and viticulturists, that 30-percent gain means that the wine is good – and that there is plenty of it because the program's students take ownership in what they're learning.
According to Philip Brown, tasting room manager at the Southwest Wine Center, the program's staff is made up of graduates and current students.
"As a customer, you're getting the education from the students themselves," says Brown, who estimates that between 60 percent and 70 percent of the tasting room's customers know little about wine. "Once you come in our door, all we have to do is provide a pleasurable experience."
As it serves the community economically, as well as agriculturally, Brown refers to the college's viticulture program and its 13 acres of grape vines as a "field of dreams."
"It's what people really want," Brown says. "Vineyards, winery and tasting room right here."
According to Brown, it takes three-to five years for harvestable grapes to grow. Thanks to six tons of grapes purchased from Willcox's Alba Vineyard, Yavapai College's viticulture program processed 12 tons of grapes to make its wine, a figure that Michael Pierce, the college's enology director says is impressive given how long the program has been in existence.
Producing a prodigious amount of wine less than three years after the program's inception proves to Pierce that the program is a "viable concept."
"But we have a lot of work to do," Pierce says.
The "breadbasket of Arizona grapes," Pierce says, is in the Willcox region, a region that "the rest of the state can source from."
"As an up-and-comer, you don't want to be without grapes for three-to-five years," Pierce says.
The program's first fiscal year was 2015-2016. So in fewer than three years, to cultivate six tons of grapes this year is because of "a great staff," says Nikki Bagley, the program's director of viticulture.
"Now that we're established, we're hitting our stride," Bagley says.
Bagley is also quick to say that a "great portion" of the program's students lean toward entrepreneurship.
Including an acre of land from Merkin Vineyards, the college uses 13 acres to grow its many varieties of grapes for more than a dozen different kinds of wine.
"It's a big undertaking," Bagley says. "But we're getting beyond simple excitement. To distinguish what we're doing here is growing high-quality fruit. Arizona has challenges in growing high quality fruit. It really does take an intense interest. We have something to offer here that's not offered in national and international markets. It's absolutely worth all the fuss."
According to Dr. Clint Ewell, the college's vice president of Finance & Administrative Services, the college's viticulture program will "use the revenue to offset the cost of growing grapes, making wine and running the tasting room."
The Tasting Room at Yavapai College's Southwest Wine Center is open from noon until 6 p.m. Thursday through Sunday. The center is on the Clarkdale campus, located at 601 Black Hills Drive.
Call (928) 634-6566 for more information, or visit http://southwestwinecenter.org.
-- Follow Bill Helm on Twitter @BillHelm42