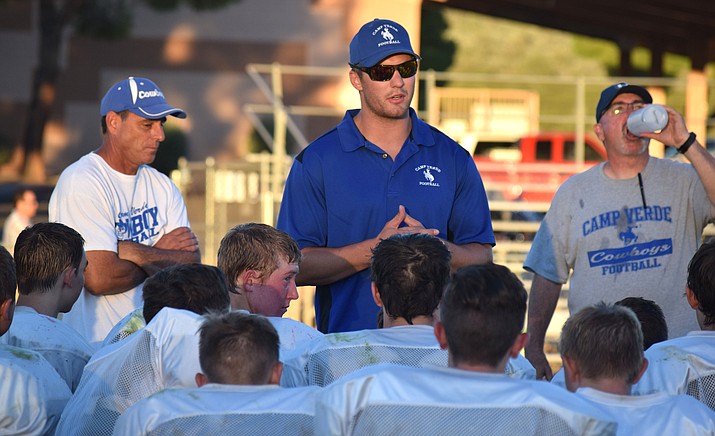 Originally Published: October 12, 2017 2:41 p.m.
Camp Verde High football's Homecoming is on Friday but Jake Spleiss already has.
After playing football and basketball at Sterling College in Kansas, the Camp Verde alumnus returned to his alma mater to coach this season. He graduated from CV in 2012 and Sterling in 2016.
"It's a lot of fun, I enjoy coaching," Spleiss said. "The game has changed a lot since I played, with new rules and things like that, so the adjustment from college football and even old high school rules is a little different, I find myself freaking out over something that is actually a part of the game now. But it's a lot of fun, especially when the kids get what you're trying to coach, what you're trying to coach them."
The No. 27 Cowboys (2-4, 1-2 Central) host No. 24 Parker (3-3, 2-2) on Friday at 7 p.m., hoping to keep their playoff hopes alive in their last home game of the season.
Spleiss wasn't on the coaching staff to start the season, but when his father Scott, was going to coach the offensive line, had to step aside, he said maybe Jake could. Scott is a wild land fire fighter.
Spleiss has some availability as he goes through the process of joining the Marine Corps as an officer.
"He's been a godsend to be honest with you," said Camp Verde head football coach Jerome Rhoades.
In the spring Spleiss ran the Cowboys through agility drills his father had from when he played, then after working over the summer, joined the coaching staff for this season.
Spleiss was an All-State linebacker in high school.
"At first I was little hesitant just because I wasn't really aware of what my future plans were, there was some stuff up in the air and so once I got that figured out, I knew it would be a commitment, that I would be here every day but it was worth it and I was excited to be out here," Spleiss said.
Rhoades said not only has Spleiss helped with the Xs and Os, but with the Cowboys' motivation and pride.
He said Spleiss can help inspire town and school pride in the current high school kids who are tempted to quit if they don't start.
"He's been talking to these kids a lot about things that he did, things he used to do go through," Rhoades said. "He is talking to them about being committed to Camp Verde from a pride stand point because that's who we represent. They're born here, they're raised here and they've gone to school here for 12 years and when you put that blue and white jersey on, it means something. When you do those Cowboy jacks at the end of the game it means something and so he's kinda filling them in on what it means."
The 2011 Camp Verde football is considered one of its best ever and recorded its first ever wins over Mingus Union, Scottsdale Christian, Payson, and Phoenix Christian.
Spleiss since he was in their shoes not too long ago he and knows what they have gone, he has empathy and sympathy for them.
They grew up watching Spleiss' Cowboy teams.
"I hope that I can bring some stuff that is beneficial to these kids, not only in football," Spleiss said. "What I'm trying to do is help prepare them for the next four years and the next six years, where I'm at right now and maybe even beyond because you're only here for four years and then you're out in the world and what I'm trying to achieve is sending Camp Verde Cowboys out into the world, sending young men that are ready and willing to work hard."