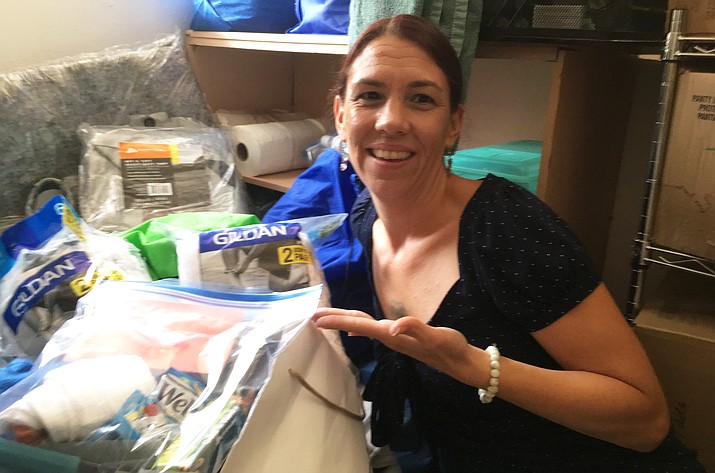 Originally Published: September 2, 2017 10:43 a.m.
The need to support homeless individuals and families in Verde Valley is greater than ever. As the colder temperatures are around the corner, this vulnerable population is at the mercy of local resources.
"Serving the homeless in the Verde Valley is a huge need because the Verde Valley lacks a shelter and other supportive means for homeless families and individuals," said Brigid Wagner, site director for Catholic Charities Cottonwood office. "They rely primarily on the good will and services of non-profits."
Catholic Charities homeless outreach staff takes to the streets and the wilderness to find families and individuals facing the elements without water, tents and tarps. Catholic Charities is looking for support from the community to serve these people with donated items of socks, hygiene products, water, tarps, tents and pet food for animals.
"We depend on these donated items, because these are not always provided through contracts and funding streams," says Wagner. "It is a huge benefit to provide these donated items as they can literally be life-saving in some instances."
People like "Pat," who hit hard times and lived alone out of his car in the desert, without resources or support. He hurt his back and lost his job as an air conditioner technician. After receiving help from Catholic Charities homeless services, he found housing and started back at school as a student at University of Arizona getting his bachelors. "They literally saved my life," said Pat. "Being alone with no one to talk to, I had some pretty bad thoughts, but they got me connected to community and helped me get housing and enrolled in school."
The loneliness of being homeless is often unbearable, so homeless often have pets.
"Roughly 30 percent of homeless individuals have pets, primarily dogs, that they own. These animals provide therapeutic value, emotional and physical support, as well as sometimes protection," says Wagner. "The ability of an individual or family experiencing homelessness to have a restful night's sleep can be a challenge, and the ownership of a dog, who is on duty, can allow people to experience a more restful sleep during the night."
Catholic Charities is stocking up on items for their outreach teams. Donations can be given at Catholic Charities, 736 N. Main Street in Cottonwood.
More like this story