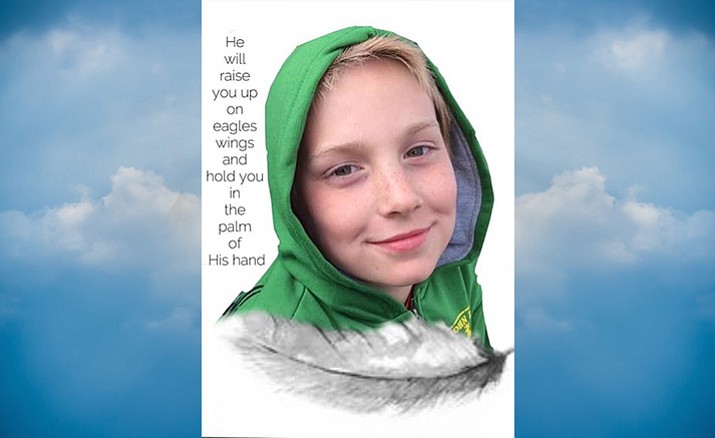 Originally Published: September 7, 2017 1:21 p.m.
Gavyn Ray Dimmick, age 11, of Crosby, ND passed away on Friday, September 1, 2017 at Short Creek Dam in Columbus. Memorial services will be held at 11:00 A.M., Friday, September 8, 2017 at Crosby Assembly of God Church with Pastor Dennis Huenefeld officiating.  Inurnment will follow at Crosby City Cemetery.  Visitation will be from 3:00 PM to 6:00 PM on Thursday, September 7, 2017 at Stakston-Martin Funeral Home in Crosby.
Gavyn was born on January 9, 2006 in Minot, ND, the son of Austin and Desiree (Prochazka) Dimmick.  Gavyn was 11 years old, in 6th grade. He was a cub-scout moved up to boy-scouts. He was a Crosby Comets hockey player. He was in Obok Martial Arts – Tang-Soo-Do. In the past he participated in Tech Club at school and t-ball and baseball in the summers. He loved all things outdoors. He loved to go camping, fishing, swimming, tubing, hanging around campfires and riding bike with his friends. He loved playing hockey and his favorite hockey team was the UND Fighting Sioux. He loved watching movies and listening to music. He was Bruno Mars' biggest fan. He liked Harry Potter, Vikings football team, legos, art and reading. He liked to build things, anything and everything. His favorite subject in school was Science. He really did not like Math. He was a fan of superheroes. His favorites were Wolverine, Batman, Green Arrow, Thor, Captain America and Iron Man. He wanted to be a Lawyer when he grew up. His favorite colors were Orange and Green. He loved his little sister, Abby's, real laugh. He enjoyed being a big brother to Kaden and he loved that he was already an uncle.
Gavyn was preceded in death by uncle, Curtis Dimmick and aunt, Kelsey Myers. He is survived by his mother, Desiree Prochazka and step dad, Nick Wishart; father, Austin (Kara) Dimmick; half sister, Abby Wishart, half brother, Kaden Dimmick all of Crosby; step sisters, Lexi (Travis) Lindenberg and Courtney (Josh) Dagenais; niece, Ava Lindenberg and nephew, Bradley Dagenais, all of Williston; Grammy, Mendy Parchman and Grampy, Dave Myers of Ambrose; Nana and Papa, Charles and Juanita Dimmick of Crosby; grandpa and grandma, Dale and Wanda Prochazka of Orange Grove, TX and Greg and Lori Wishart of Crosby and Robert and Marj Schiele of Crosby; uncles, Jon Myers of
Ambrose , Travis Dimmick of Odessa, TX and Larry Prochazka of Fort Wayne, FL; auntie, Erika (Shelby) Brouillette of Aurora, CO and uncle, Robert  (Christina) Schiele, JR of Port Orchard, WA; aunt, Heather (Curtis) Hansen of Camp Verde, AZ; great grandma's, Donna Wishart of New Rockford, ND, Marlyn (Howard) Moericke of Flaxton, ND and Arlene Myers of Ambrose and Mamaw, Lou Parchman of Beeville, TX, and numerous cousins, great aunts, great uncles and other family members. Stakston-Martin Funeral Home of Crosby, ND is in charge of arrangements.
Information provided by survivors.
More like this story