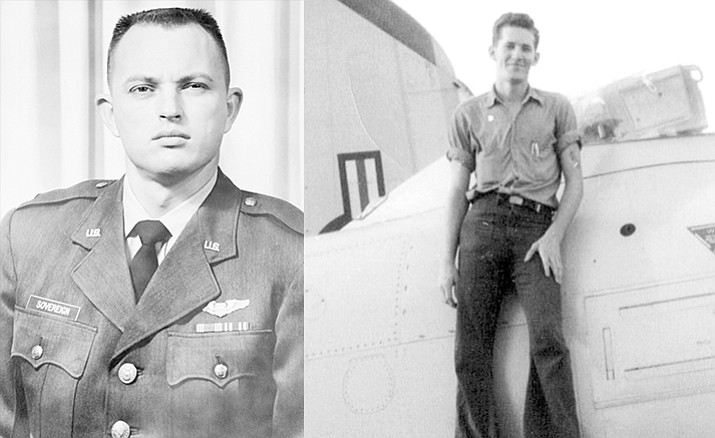 Originally Published: September 28, 2017 3:20 p.m.
Newspaper seeks veteran stories, photos
The Verde Independent and Camp Verde Bugle newspapers are looking for photographs of Verde Valley veterans for inclusion in our Veteran's Day special section, which will publish Friday Nov. 10, 2017.
Please email photographs to bhelm@verdenews.com as large-format, high resolution jpeg attachments.
In addition, please send a story up to 100 words in length describing your military service to our country.
Information must include your name, branch of military service, rank, years of service, connection to the Verde Valley and a summary of your military service.
Or, if you would prefer to mail or drop off a copy of your photograph and story, please use the following address: Salute to Veterans, The Verde Independent, 116 S. Main St., Cottonwood, AZ 86326.
Photographs and information need to be delivered to the newspaper before Friday, Nov. 3.
Camp Verde Quilters
The Camp Verde Quilters Group meets the second Monday of each month at 8:30 A.M., at the Denny's restaurant located at 1630 SR 260 in Camp Verde. Please join us to discuss quilts and quilting. We meet monthly to share ideas and plans for the Bi-Annual Quilt Show which is held during the Fort Verde Days Celebration in October.
The next Quilt Show will be in 2018. We also share quilt projects we are working on or have completed, please bring your projects to share with us. All quilters are welcome! Our next meeting is on Monday, Oct. 9.
Fort Verde Days needs volunteers
We are in need of volunteers for Fort Verde Days. We need help with the Parade, Set Up and Breakdown of Equipment on the field, Jail-A-Thon during the Parade and Gate Keepers.
You may sign up online or call 928-301-0922. We will also need volunteers for our Salsa Contest on Sunday, Oct. 15 from 10:30 a.m. through Clean up.
We can always find a job for you to do if you can't find hours that will work for you for the above jobs.
We are looking forward to a great festival and will be thankful for any and all help.
Alzheimer's support meeting
Alzheimer's support group meetings for caregivers of Alzheimer's patients are held the first Wednesday of each month from 10 to 11 a.m. Please arrive by 9:45 a.m.
The next meeting will be held on Wednesday, Oct. 4.

The group meets at Verde Valley Medical Center in Cottonwood, Meeting Room A. Enter the hospital at the Outpatient Services Entrance.

The organizers are excited to host this support group at VVMC as it is a more central location. And, experts from the hospital will be asked to speak periodically.
This support group is open to everyone, and we are extending an invitation especially to people who have not been able to attend before.
Vast amounts of information is available, so if you have ANY interest in memory disorders, please come check us out.
Bonnie Shimko from AZ Care Management Solutions is an official facilitator and will be making as many meetings as she can.
For information, call Bonnie at (928) 300-0172 or Barbara at (928) 634-2638 or Fran at (928) 301-3852.
Yavapai College events bring together university representatives and transfer students
Face-to-face help is on the way for current and prospective Yavapai College students planning to pursue a bachelor's degree. YC's University Transfer Day is happening Wednesday, Oct. 4, at the Verde Valley Campus (601 Black Hills Drive, Clarkdale); and Thursday, Oct. 5, at the Prescott Campus (1100 E. Sheldon Street).
University Transfer Day brings together admissions representatives from more than a dozen universities and transfer-seeking students looking for information about admissions, financial aid, scholarships, housing and more.
Universities sending representatives to the YC Transfer Day events are: Arizona State University, Northern Arizona University, The University of Arizona, Grand Canyon University, Embry-Riddle Aeronautical University, Prescott College, A.T. Still University, the University of Phoenix and Ashford University.
A new addition to YC's University Transfer Day events this year is an information table and workshops devoted to the EARN TO LEARN scholarship program. 
Eligible students who earn $500 on their own can receive a $4,000 scholarship to use toward their ASU, NAU, or U of A expenses. 
EARN TO LEARN representatives will be offering workshops about the program at 12:30 p.m. in Building G, Room 104 Oct. 4 on the Verde Campus; and again at 12:30 p.m. in Building 19, Room 207 on Thursday, Oct. 5, on the Prescott campus.
To prepare for University Transfer Day, students are welcome to learn more about YC's transfer resources at www.yc.edu/advising.
To contact YC Advising by phone, call 928-776-2106 in Prescott, or 928-634-6510 in the Verde Valley.
Here is the complete YC Transfer Day schedule:
-Wednesday, October 4, 10 a.m. to 1 p.m., Verde Valley Campus, Building M
-Thursday, October 5, 10 a.m. to 1 p.m. Prescott Campus, Building 19.
City of Cottonwood Transfer Station no longer accepts cash
Due to recent counterfeit bills being accepted, the City of Cottonwood Transfer Station will no longer accept cash.

Credit and/or debit cards only will be accepted at the Transfer Station.
For more information, contact the City of Cottonwood Public Works Department at (928) 634-8033.
Come cheer Verde Valley's Special Olympians
Come cheer Verde Valley's nearly 200 Special Olympians, as the Bocce Regional Tournament is open to the public and the thrill of the games will indeed captivate interest.
The Mountain Area team covers Olympic Athletes from Flagstaff, Prescott, Prescott Valley, Chino Valley, Sedona, Williams, Verde Valley, Page, and surrounding cities and towns. This is a regional event that moves on to the State Games, which could lead other Olympians to qualify for the Special Olympics USA Games.
Bocce, or Italian Lawn Bowling, is one of the most widely played games in the world. It is also considered one of the oldest lawn games.
There will be Special Olympic athletes, Camp Verde Mayor Charlie German, coaches, crew, family, friends and the general public in attendance. A great way to enjoy a Saturday.
The Bocce Regional Tournament is Saturday, Sept. 30 from 9 a.m. until noon at 467 W. Pheasant Run Circle in Camp Verde. This event is hosted by Rainbow Acres for the Mountain Area Region.
Volunteers are also needed and will be provided a free lunch. Call 928-567-5231 for more information.
Walkin' on Main
On Saturday, Nov. 11 from 11 a.m. until 5 p.m., the Verde Valley is celebrating Historic 89A and the area's unique history with Walkin' on Main.
Besides Old Town Cottonwood's charming galleries, shops and restaurants, there will be an outdoor wine tasting hosted by the Verde Valley Wine Consortium, an antique and classic car show organized the Mingus Union Hot Rod Club, and live music.
Mingus Union Art Club will create live art on the street sidewalks and you can also take a self-guided historic tour of Old Town Cottonwood provided by the Cottonwood Hotel.
For more information, please see the Leisure Times, Parks & Recreation Dept., at cottonwoodaz.gov or contact Cottonwood Recreation Center at 928-639-3200.
Verde Village community meeting
Verde Village will hold a community meeting from 5 p.m. until 9 p.m. Oct. 9 at the Verde Village Clubhouse, located at 4855 E. Broken Saddle Drive in Cottonwood.
From 5-7 p.m., there will be a Flu Shot Clinic, sponsored by the Yavapai County Community Health Services. And from 7-9 p.m., Yavapai County Supervisor Randy Garrison will provide a General Update, then Carla Hover will provide a Community Health Services Update, Leslie Hoffman will talk about Elections, Verl Cook will present a Roads Update and Dwight Develyn will present Code Red.
Calling All Teens
The Teen Library Council (TLC) at the Cottonwood Public Library is actively looking for new members to join their team. TLC is a group of teens who volunteer their time to help out with various fun activities and library events while also providing valuable input towards what they would like to see happen in their library.
Not only do TLC volunteers gain excellent workplace experience that looks great on resumes and college applications, they also get inside access while working at library events such as the Cottonwood Comic Expo and the Sci-Tech Festival.
There is still time to help design and create a float and be a part of the Cottonwood Christmas Parade. Members will receive meaningful community service credits while meeting new friends at the same time.
Interested young adults ages 11-18 are invited to fill out a TLC application which can be found in the Youth Services Department. The application needs to be signed by a parent or guardian. The Teen Library Council meets at the library every first and third Wednesday of the month at 4 p.m. after early release. The Cottonwood Public Library encourages all young adults to come in and discover that libraries are much more than just books these days.  The library is located at 100 S. 6th St., next to the Recreation Center.
For more information please call Ceres at 928-634-7559, ext. 107.
Free bird walks at Montezuma Well, Tuzigoot National Monument
Beginning in October and continuing through April 2018, Montezuma Well and Tuzigoot national monuments will host bird walks. 
On the first and third Saturdays of each month, walks will take place from 9-11 am at Montezuma Well.  Each walk will begin at the Montezuma Well Picnic area. 
On the second and fourth Saturdays of each month, walks will take place from 9-11 a.m. at Tuzigoot National Monument. 
Each walk will begin at the Tuzigoot Visitor Center parking lot. Due to the holidays, there will be no bird walks on Nov. 25 or Dec. 23.
Participants are encouraged to bring water, binoculars, a hat, and to wear comfortable shoes for walking.  The trails can be steep, rocky and uneven.
Montezuma Well is located at 5525 Beaver Creek Road, Rimrock, AZ 86335. 
For more information, call 928-567-3322, extension zero, visit www.nps.gov/moca or follow us at www.facebook.com/MontezumaNPS.
Engaging the World as an Elder
An inspiring, transformational talk by renowned expert in Elderhood, Bill Thomas M.D., will include talks, group discussions, personal awareness exercises, and social interaction regarding intentionally creating a personally-suitable plan for life-long growth as an Elder.
People who want to learn more about this movement, can meet on Friday, Sept. 29, 9:00 am – 4:00 pm, Room 34 at the Yavapai College Sedona Center (on Cultural Park Place, across Rt. 89A from Red Rock High School).
This event is open to everyone, admission is free, and a donation of $10 at the event is encouraged.
Please call to pre-register at 928-649-4275.
Osher Lifelong Learning Institute (OLLI)
OLLI is expanding in Camp Verde. OLLI provides learning and teaching opportunities for intellectually active adults with curious minds and hearts. No educational requirements, no homework or grades— just a love of learning! To register, call Olli at 649.4275, 649.5500 or at www.yc.edu/ollisv
Except as noted, all Workshops and Learning Groups will be held at the Camp Verde Community Library.
October 3, 2–5 p.m., Sound Sleep Using Aromatherapy and Essential Oils, with Honey Rubin and Sarah Jensen in the Copper Room
October 5, 1 to 4 PM - Let's Have a Tea Party with Grace Kirkwood in the Key Lime
October 10 to November 14 - 2:30 – 5 PM - Four Time-Tested Tools to Increase Your Success with Honey Rubin and Sarah Jensen in the Copper Room
October 10, 9:30 AM to 12:30 PM - Blacksmithing in Camp Verde with Bill Morris in the Copper room
October 12, 1 to 4 PM - Bass Fishing with Tim Smith in the Copper Room
October 13 OR November 10, 5:30 to 7:30 PM - New and Alternative Perspectives on Health with Naomi Brand in Copper room.
October 16, 1 to 4 PM - Best of the Web with Gerry Laurito in the Copper room.
October 19, 1 to 4 PM - Quilling Made Easy with Nancy Raistick in the Copper Room
November 9, 1 to 4 PM - Paint Like Monet with Mary Krigbaum in the Terracotta
room.
November 14, 9 AM to Noon - Introduction to Pickleball with John Parsons at the Camp Verde Community Center Gym.
To register, call Olli at 649.4275, 649.5500 or at www.yc.edu/ollisv
Hospice of Pines hosts 'A time of Remembrance and Celebration of Life'
Hospice of the Pines invites you to join us for A time of Remembrance and Celebration of Life. A Time to Remember, A Time to Honor, A Time to Cherish.

This event is held to honor the memories of our patients and members of our community who have passed in the last year. Please join us at: Cottonwood Village, 201 E. Mingus Ave in Cottonwood on Saturday, Sept. 30 at 10 a.m.

Light refreshments will be served. Please call to RSVP or for more information or to provide your loved one's name for the ceremony at 928-632-0111.

Camp Verde Unified School District participates in National School lunch, breakfast programs
Camp Verde Unified School District will be participating in the National School Lunch Program and the School Breakfast Program. As part of this program, Camp Verde Elementary, Camp Verde Middle, Camp Verde High, Accommodation, and South Verde Schools will offer healthy meals every school day. Breakfast will cost $1.50; lunch will cost $2.85. Your children may qualify for free or reduced-price meals. Reduced-price meals cost $0.30 for breakfast and $0.40 for lunch.
Qualifications for children to receive free or reduced price meals include: belonging to a household whose income is at or below the Federal Income Eligibility Guidelines, belonging to a household that receives public assistance, or if the child is homeless, migrant, runaway, foster, or participates in a Head Start or Even Start pre-Kindergarten program.
To apply for free or reduced-price meals, households can fill out the application and return it to the school unless the household has already received notification that their children are approved for free meals this year. Application forms are being distributed to all households with a letter informing households of the availability of free and reduced-price meals for their children and what is required to complete on the application. Applications also are available at all school offices and at the cafeteria.
Only one application is required for all children in the household and the information provided on the application will be used for the purpose of determining eligibility and verification of data. Applications may be verified at any time during the school year by the school or other program officials. An application for free or reduced-price benefits cannot be approved unless it contains complete eligibility information as indicated on the application and instructions. In the operation of child feeding programs, no child will be discriminated against because of race, sex, color, national origin, age, or disability.
Under the provisions of the free and reduced-price policy, Fonda Hammond will review applications and determine eligibility. Parents or guardians dissatisfied with the ruling of the official may wish to discuss the decision with the determining official on an informal basis. Parents wishing to make a formal appeal for a hearing on the decision may make a request either orally or in writing to Rhonda Austin; 410 Camp Lincoln, Camp Verde, AZ 86322; 928.567.8011.
Households notified of their children's eligibility must contact the school if the household chooses to decline the free meal benefits.
For more information, you may call Ida Pieratt at 928.567.8025 or e-mail at ipieratt@campverdeschools.org.
'Innovation, Technology and the Future of Mental Health Therapy' theme of Mental Health Summit in Camp Verde
"Innovation, Technology and the Future of Mental Health Therapy" is the theme of the Mental Health Summit on Friday, October 13, 8:30AM-3:00PM, at Cliff Castle Casino Hotel, 555 Middle Verde Rd, Camp Verde, just off Interstate 17 at exit 289. The Summit, organized by The Mental Health Coalition Verde Valley, is open to the public and costs $25 which includes lunch.
The Keynote Speaker is Dr. Leslie Korn, PhD, a Harvard trained traumatologist who specializes in mental health nutrition and integrative medicine for mental health and optimal brain function for people of all ages will address "Advances in Integrative Mental Health." Dr. Korn has worked for over 35 years in private practice and community mental health specializing in integrating psychotherapy and complementary and alternative medicine for the treatment of traumatic stress and chronic physical illness.
Dr. Korn's address will be followed by a panel addressing Integrative Approaches to Physical and Behavioral Health available in Arizona.
As part of the luncheon, the first Mental Health Coalition Verde Valley 2017 Innovation Awards will be presented to 4 recipients. Sheriff Scott Mascher will accept the award for the establishment of the Behavioral Health Unit at the Camp Verde Jail and the accompanying services that prepare individuals to return to the community. April Rhodes and Sarah School will accept the award for establishment of the Mobile Crisis Unit. The third award will be presented to Patrick Schweiss, Executive Director of the Sedona International Film Festival.
The afternoon panel features speakers addressing High Tech and Bioscience Innovation in Mental Health.
The Summit is made possible by donations from Spectrum Healthcare Group, Health Choices Integrated Care, the NARBHA Institute, Community Counts and Cliff Castle Casino. $25 includes lunch.
To register online go to www.brownpapertickets.com/event/3091286 or contact Barbara Litrell 649-0135, blitrell@aol.com
Free HIV screening offered
Beginning Oct. 12, free HIV Screening will be offered on Thursdays by appointment only at Yavapai County Community Health Center, located 51 Brian Mickelsen Pkwy., in Cottonwood. Results are available in 20 minutes.
To make an appointment, call 928-634-6860. The screenings are sponsored by Sponsored by Yavapai County Community Health Services and Northland Cares.
Camp Verde offers bus trip to Diamondbacks Wild Card Playoff Game
Camp Verde Parks & Recreation has tickets for the Diamondbacks Wild Card Playoff Game trip for Oct. 4! The Diamondbacks are battling for a spot in the playoffs and are looking to extending their 2017 season.
The wild card slots should be determined by the end of this week, probably against the Rockies. These are great field level seats for only $75 which includes ticket, transportation, and parking for what promises to be a great game. We only have 25 tickets, so be sure to hurry in to claim yours.
Let us drive you to the game at Chase Field and drop you only minutes from your seats. The trip leaves from Camp Verde Parks & Recreation, with the departure time to be determined once official game time is announced for this late afternoon game.
Let us deal with traffic and parking while you relax. Come support the D-Backs as they keep up their run for the post season. For more information contact Shawna Figy at (928)554-0829 or come by the Camp Verde Parks & Recreation office to register at 395 S. Main Street. Open 7am – 5pm Monday through Thursday and Friday 7 am to 11 am.
Kids Against Hunger meal-packing event returns Oct. 21
Manzanita Outreach is a local non-profit focused on delivering hope to those who need it most … locally and abroad.

Manzanita Outreach will host our fourth annual Kids Against Hunger packing event on Saturday, Oct. 21 at the Verde Valley Fairgrounds.

Utilizing the support of over 800 volunteers of all ages, assembly lines will be formed and the nutritious meals will be prepared for shipment. Kids Against Hunger's meals have been formulated by food scientists to provide a rich source of easily digestible protein, carbohydrates, and vitamins needed by children suffering from malnutrition.
The meals offer all nine of the essential amino acids required for complete nutrition – something that can't be said about other typical food relief sources such as rice or beans alone.

To volunteer for the event, register at www.ManzanitaOutreach.org.

Sponsorships and donations are needed to help pay for the food, packaging materials and shipping costs. Contributions are accepted online at www.ManzanitaOutrearch.org or by mailing a check to: Manzanita Outreach, P.O. Box 371, Cottonwood, AZ 86326.
Manzanita Outreach is a qualified organization for the AZ Tax Credit.
Give blood in Camp Verde
The next Camp Verde Community Blood Drive will be from noon until 5 p.m. Friday, Oct. 13 at the Camp Verde Bashas' parking lot, located at 650 Finnie Flat Road. United Blood Services will hold the blood drive in its Bloodmobile, found in the parking lot.
Contact Irene Peoble for more information at 928-567-9227.
Or visit www.Bloodhero.com (Sponsor code: CampVerdeCommunity).
Wool Felting class in Old Town Cottonwood
Wool Felting class Friday, Sept 29th at Hart Gallery 1017 N. Main in Old Town Cottonwood. From noon until 2 p.m. $20 for class and $5 for materials.
Learn how to make fabulous wet-felt wool Bangles using raw wool and soap and water and elbow grease. Call 928-202-4551 to sign up. Class size limited to 12 people.
Public comment sought on design considerations for reconstruction of Mingus Avenue
The City of Cottonwood's Engineering Department is seeking input from the public regarding design considerations for the reconstruction of Mingus Avenue between 8th and Main Streets. You may access the roadway alignment exhibit and public questionnaire on the City of Cottonwood website www.cottonwoodaz.gov. Please take some time to provide your input on how you would like to see the Mingus Avenue roadway corridor be developed.

The deadline for completing this survey has been extended to Sept. 30.
Verde Valley Water Festival returns Oct. 5
The 10th annual Verde Valley Water Festival will take place at Dead Horse Ranch State Park on Oct. 5.  Arizona Project WET partners with local governments, school districts and water providers to create an interactive learning experience for area fourth grade students and teachers.
Last year's festival served 457 students at no cost to the schools thanks to the generosity of our sponsors. Sponsoring the Water Festival is easy, beneficial and tax-deductible. 
If you would like to make a donation, please make checks payable to Yavapai County Water Festival and send them to the Board of Supervisors, 10 S. 6th Street, Cottonwood, AZ 86326. 
If you would like to volunteer, please contact the Board of Supervisors' office at (928) 639-8110.
Fourth annual Clarktoberfest on Main Street
Mark your calendars for Saturday, Oct. 7. This is the day the Clarkdale Downtown Business Alliance and Made in Clarkdale bring you our biggest and best party of the year.

Join us from 2-9 p.m. for our fourth annual Clarktoberfest on Main Street in Historic Downtown Clarkdale. This event spans the street for two blocks of downtown and includes kid events in the park.
There will be food from Clarkdale restaurants, live music from three different bands, many different craft breweries represented along with the three wineries of Clarkdale. Main Street will be loaded with artists, arts & crafts, local businesses and community organizations, plus activities for all ages.
The park will be the host of Dogtoberfest for our furry family dog members, too.
For more information on the event, to sign up as a volunteer or to print your vendor application please visit www.clarktoberfestaz.com or Facebook/Historic Downtown Clarkdale.
'Great Escape' artist coming to Cottonwood
Brazilian Jiu Jitsu instructor Steve Austin is coming to the Verde Valley, Oct. 7. Called the Great Escape artist for his uncanny ability to escape, Jiu Jitsu holds on the mat, Austin has overcome great adversity in his life from a young age. He became involved with martial arts early in life due to bullying he received because of his handicap: a hip disease called Legg-Perthes. Austin spent years of his childhood having surgeries and wore braces on his legs. To this day, Austin has severe nerve damage in his right leg, about 70 percent nerve loss.
He will be leading seminars at the Verde Valley Brazilian Jiu Jitsu studio in Old Town Cottonwood and also giving an inspirational talk to the studio's younger students.
Carnival coming to Camp Verde for Fort Verde Days
Our annual carnival is coming to town for Ft. Verde Days, Oct. 13-15. You can now purchase your tickets online at campverdepromotions.org and use your credit card. They are available at Bashas' and Camp Verde Feed Stores for cash only. Buy early and avoid the last minute rush.
International Blues Competition returns to Clarkdale
The 3rd annual International Blues Competition (IBC) which will be held in Clarkdale, on Saturday, Oct. 14, from 11 a.m. to 5 p.m. This free event, open to the public, will feature 12 acts, six bands and six solo/duo acts all competing for the right to represent Northern Arizona in the 2018 Blues Foundation IBC, held in Memphis Jan 16-20.
The Blues Foundation IBC hosts the winners of each of 125 Blues Foundation affiliates for both bands and solo/duo acts.
Acts are scored by a panel of judges on five separate criteria including Blues Content, Originality, Vocal Skills, Musicianship, and Stage Presence. NAZBA winners receive $1,000 (band) and $350 (solo/duo) toward expenses in order to compete in Memphis. Last year, NAZBA's band winner went on to make the semi-final round, finishing in the top 40 bands from around the US and 20 other countries.
This year, we hope to send two acts also capable of making it into at least the semi-final round of the competition.
Fort Verde Days to feature salsa contest
Camp Verde Promotions will be sponsoring a Salsa Contest this year at Fort Verde Days.
There will be two categories Hot or Regular. For those that want to enter the contest please bring enough for 100 small samples.
We will furnish chips and little cups for samples. There will be cash prizes for the winners. The contest will take place in the Ramada, between noon and 1 p.m. Deliver samples to the Ramada between 10:30 a.m. and 11:30 a.m. Please call 928-301-0922 to enter.
Free developmental screenings for preschool children
The Cottonwood-Oak Creek School District offers free developmental screenings for preschool children between the ages of 3 to 5 years, who live in the school district, and are not already receiving special education services or enrolled in Kindergarten. 
These screenings are typically held on a monthly basis and the screenings will check a child's speech, motor, cognitive, adaptive, and social development. 
For an appointment, please call 938-634-7039, ext. 4118. Our next screening date is Wednesday, Oct. 4.  
Arizona Early Intervention Program also offers developmental screenings for children age birth to three years; for those appointments, please call 602-532-9960, or visit them online at www.azdes.gov/azeip. 
Camp Verde Community Library to host Indie Author Day
Camp Verde Community Library is proud to announce that it will be participating in the annual Indie Author Day celebration by hosting an event on Saturday, Oct. 14, that is free and open to the public. This event will offer 4 sessions, from 10 am to 2 pm, each starting on the hour:
10 am: Sharing stories jogged by historical artifacts
11 am: Author, Melissa Bowersock presents preserving and sharing family stories. Includes tips on how to get family members talking (especially with the holidays coming up), how to record them, then transcribe them
Noon: Indie author open mic with 5 minutes per reading and/or a chance to give a glimpse behind the scenes of the writing process
1 pm: Meet the indie authors, network, chat and browse the books
This event will be part of the second Indie Author Day event. Last year, nearly 300 libraries hosted thousands of authors across the United States and Canada. This year, high participation is expected again.
This is an opportunity for the indie community to come together in the library to help local self-published and independent authors get discovered and for readers to find new books written by fellow community members.
Beyond this annual event, the Indie Author Day community offers programming on the indieauthorday.com website to help libraries and authors stay connected throughout the year.
To learn more about Indie Author Day, visit www.indieauthorday.com
Camp Verde Community Library is located at 130 Black Bridge Road.  For more information about this or any other program at the library, contact us at 928-554-8391.
Verde Valley Water Festival returns to Dead Horse Ranch State Park
The 10th annual Verde Valley Water Festival will take place at Dead Horse Ranch State Park on Oct. 5.

Arizona Project WET partners with local governments, school districts and water providers to create an interactive learning experience for area fourth grade students and teachers by providing an integrative water education utilizing a two-hour fun-filled hands-on event consisting of standards-based activities focused on the water cycle, watersheds, groundwater and water conservation.

Last year's festival served 457 students at no cost to the schools thanks to the generosity of our sponsors. Sponsoring the Water Festival is easy, beneficial and tax-deductible. If you would like to make a donation, please make checks payable to Yavapai County Water Festival and send them to the Board of Supervisors, 10 S. 6th Street, Cottonwood, AZ 86326.

To volunteer, please contact the Board of Supervisors' office at (928) 639-8110.
Cottonwood Police Dept. hosts National Night Out
Cottonwood Police Department will host National Night Out Oct. 3 from 4:30 to 7 p.m. at the Cottonwood Kids Park, located at 350 S. 12th St.
The event is free for the whole family. The evening will feature fun activities, along with hot dogs, hamburgers, soda, water, ice cream, popcorn, and snow cones.
Camp Verde Lions Club hosting Fort Verde Days Car Show
The Camp Verde Lions Club is putting on their Annual Fort Verde Days Car Show on Saturday, Oct. 14 at the Verde Plaza on Fain and Main Street, in the town of Camp Verde.
All funds raised go to help children and adults with getting eye glasses and other eye care needs. Attached is the Flier and registration form for entering your vehicle.
If you would like to register your car early for the show. You can mail in you registration form and entry fee to Camp Verde Lions Club- via fort Verde days car show at P.O. Box 653, Camp Verde, Az. 86322. If you have any question please email us at cvlionsclub1950@gmail.com or call 928-301-9331.
Verde River Rockhounds meeting every second Thursday
Verde River Rockhounds meet every second Thursday at 6:30 p.m. at the American Legion, Calvary Way in Cottonwood.
Guests are welcome. Speakers, field trips, good people. Visit www.verderiverrockhounds.com or find us on Facebook.
Sign Up For Toys for Tots Golf Classic
The 12th annual Toys for Tots Golf Tournament will take place at Verde Santa Fe golf course on Saturday, Oct. 7. 
Check in is at 7:30 a.m. (note time change) and tee off is at 8:30.
Cost is $85 and includes green fees, cart, lunch, promotion items, water and ice.  Bring a $15 toy to get a free raffle ticket.  More raffle tickets for sale and a silent auction with many wonderful items to bid on.  Larry Green Chevrolet will provide a new 2018 car for a designated par three hole.  A hole-in-one there will win it.  There are also fabulous prizes for a hole-in-one on other par threes.
The format is four-person step aside.  I you do not have a full team, sign up anyway, and we will match you up.
Prizes are given for 1st place teams, longest drive, and closest to the pin.
Forms are available at the Verde Santa Fe golf course. For more information call (928) 963-6132 or see verdevalleytoysfortots@gmail.com
The website is cottonwood-az.toysfortots.org.
Early entries are appreciated as space is limited.  Proceeds go to Christmas toys and parties for eligible children in the Verde Valley
Guided canoe paddle at Dead Horse State Park
To coincide with the annual Verde River Day, come and experience the wonders of the Verde River up-close Oct. 1 at Dead Horse Ranch State Park, 10th Street, Cottonwood. For those that are interested and experiencing first-hand floating down one of Arizona's last perennial rivers, we will be guiding canoes down the Verde River for a unique perspective of the riparian habitat. Experienced paddlers will pilot every canoe or kayak so participants can sit back and enjoy the river's surprises.
There will be two group floats one at 8 and one at 10:30 a.m. Arrive at Dead Horse Ranch State Park, Owl Loop Road day use area one-half hour before your scheduled trip. There's always the chance of getting wet so participants should wear shoes and clothes that can take the water and get dirty. Shorts are recommended depending on weather. This trip is dependent upon the water flow. Weight limit - 250 pounds. Participants must be able to self-rescue in the event of a flip. 
Cost is $15 per person and includes park entrance.
For registration visit www.verderivergreenway.org/guidedcanoe
For further information contact Laura Jones at (928) 451-6860.
Toastmasters Club meets in Cottonwood
Of all the fears that humans experience, public speaking tops the list. In an atmosphere of fun and friendship, the Cottonwood Toastmasters Club helps people overcome their fear and become confident speakers and leaders. It meets every Monday from noon to 1 p.m. at Cottonwood Village, 201 E. Mingus Ave., Cottonwood, and is open to people who not only want to improve their speaking skills, but to have fun doing it.
Sooner or later, many who do not consider themselves public speakers may be called upon to give a presentation. The Cottonwood Toastmasters Club goes beyond teaching the necessary skills to succeed in corporate and business settings. It also boosts confidence for people who wish they could tell a story, recite a joke, give a pitch, or speak spontaneously in front of a group. In the warm and friendly environment of the Club, participants practice becoming confident speakers. In the words of one member, "Toastmasters changed my life!"
Guests are welcome to attend as non-members for as long as they wish before joining. With a minimal financial commitment, members reap maximum results. For more information, contact Lou Rangel at (928) 300-4945.

Heroes needed at Verde Valley Humane Society
The Verde Valley Humane Society needs volunteers to care for their wonderful kittens and cats.
Donating your time to be a cat socializer would have a positive and long-lasting effect on their well-being. The VVHS cats would love to receive one-on-one attention, an abundance of TLC, and the opportunity to exercise and play.
Volunteers can take the kitties to the play room; bring a blanket to sit on the cat room floor to cuddle and play; watch videos with them on a tablet; and read to them, as not only does it help with socialization, but also listening to our voice comforts and soothes them.

Available times for this vital and enjoyable role is between 10am and 5pm, Monday through Saturday, and 11 a.m. and 3 p.m. on Sunday.

If you would like to join their team of dedicated volunteers and help make a huge difference in the lives of their kitties, you can either pick up a Volunteer Application (which includes their requirements) at the shelter, or you can print one out at verdevalleyhumane.org/volunteers.
If you have any questions, please contact their Volunteer Chair, Karla Horn, at 928.853.1251 or via email at karlahorn@msn.com.

The Verde Valley Humane Society is located at 1520 W. Mingus Avenue, Cottonwood. Hours are 10 a.m. to 5 p.m. Monday to Saturday. Call 928-634-7387 for more information.
Camp Verde Halloween Trunk or Treat Planning
Camp Verde Parks & Recreation announces advance planning for our annual Main Street Trunk or Treat Halloween Festival. The popular event will be on Tuesday, Oct. 31 this year from 5-7 p.m.
Main Street will be closed down from the Circle K store to the Camp Verde Feed Store to allow for a safe environment for families to enjoy the activities.
Last year saw the crowd grow to an estimated 3,000 kids and parents! Businesses, organizations and individuals passed out tons of candy to costumed children strolling the street. Parks & Recreation takes the lead in providing candy for this event by accepting donated funds and then purchasing candy to be parceled out for distribution. Groups with funds to donate are asked to contact Parks & Recreation.
They also coordinate placement of booths and cars along the route to take advantage of this safe closed street area.
In addition to costumed candy gobbling, businesses and groups are invited to organize other activities. These might include a haunted house, musical entertainment or food. AZ Central Land Realty will be doing their Halloween decoration extravaganza and there will be plenty of other decorated businesses and cars. Parkside Community Church, Lions Club and the Kiwanis Club of Camp Verde are just some of the community groups that we expect will be joining us for this event.
This is an opportunity for businesses and organizations to participate in a fun community event. Does your business have a piece of big equipment that would look great decorated up? Do you have an employee who can walk Main Street on big stilts? Have a neighbor who juggles?
This is the chance to use your imagination and add a little bit more and create a great family festival. Individuals, organizations or businesses that would like to participate in some way are encouraged to contact Shawna Figy at Camp Verde Parks and Recreation (928)554-0829 to discuss possibilities.
Christmas Craft Bazaar Vendor call
Camp Verde Parks & Recreation is accepting crafter registrations for our annual Christmas Craft Bazaar. This year's bazaar will be held on Saturday Dec. 9 from 10 a.m. to 4 p.m. in the Community Center Gym on Hollamon Street. We are looking to showcase locally and regionally made quality products for this show. If you are a crafter of gifts or Christmas decorations don't miss this opportunity to show off your talents.
This is a chance for local residents and visitors alike to browse a selection of unique gift and decorating ideas.
The Town's annual Parade of Lights will also be held that evening at 6 pm just outside the Gym. After the parade Santa and Mrs. Claus will be in the Gym to meet children and hear their Christmas wishes. Crafters will not be required to provide individual liability insurance.
Booth space is $25 per vendor with limited electric availability and includes two 8 foot tables in an L shape. Vendors can contact Camp Verde Parks & Recreation to apply or with questions at 395 S. Main St. or (928)554-0829 or Shawna.figy@campverde.az.gov.
Northern Arizona Rock, Roll and Ride – American Roots Festival
Steps to Recovery Homes is holding its second Rock, Roll and Ride Benefit at The Collective Sedona on Oct. 7. This year we are expanding our efforts and making it a Roots Music Festival. The event will start with a clean and sober motorcycle run in the morning and follow with five or six bands. There will be exhibit booths and food available throughout the day.


We are looking for businesses and organizations to sponsor this event and get involved. The money raised will go to help with food, advertising, securing the facility and entertainment.

Your sponsorship creates a win-win for all of us. Your business will be promoted in our advertising and at the event showing your support in creating a safer community for everyone and Steps to Recovery Homes will be able to continue providing a valuable resource in the community for individuals who otherwise would not be able to afford treatment for their addiction issues.
Vendor space available for artists, arts & crafts vendors, local businesses, non-profits
Clarktoberfest2017 is not really like Oktoberfest although there is beer involved. It's Clarkdale's unique event, a fall festival that is a street fair/concert/beer garden and a fun time for all and of course live music! This year we are merging "Howl-o-ween", the Clarkdale dog event, with Clarktoberfest. There will be lots of fun for dogs, kids and adults with both events in one place and time. More information at our website: http://clarktoberfestaz.com/
Vendor space is available! Vendors will be provided a 10x10 space on the street – you will bring your own tent, tables, chairs, etc.  The cost of the booth space will be $25 with your business license or $30 for those without a business license.  If you are interested in a booth space you can go to http://clarktoberfestaz.com/  and "CLICK" on Participants Forms to complete our online application then mail a check to us or email us at madeinclarkdale2012@gmail.com   and we will email back to you a vendor application.  If you have any questions, also email us at madeinclarkdale2012@gmail.com.
Verde Valley Special Needs Support Group meets every third Thursday
The Verde Valley Special Needs Support Group - a core group of people personally connected to the autism community – has been expanded to welcome and offer support to parents, family members, and caregivers of people with all special needs.
A support group is the lifeline that can bring emotional respite and assistance to those struggling. Those in the support group are walking the path too, some of them have for several years, and can offer empathy, insight, and suggestions for professional help and resources.
The Group meets every third Thursday of the month at the Camp Verde Library from 6-7:30 p.m. We welcome you to join us. No family should have to walk this path alone. Come to a meeting and share, learn, and connect with others who understand.
Family Movies at the Library
On every third Saturday of the month the Cottonwood Public Library hosts family movies in the Youth Services Department. Family friendly movies begin at 10:30 a.m. and are free and open to parents and children of all ages. Please check the Library website at www.ctwpl.info for this Saturday's family movie title. The Library is located at 100 S 6th St in Cottonwood.
More like this story