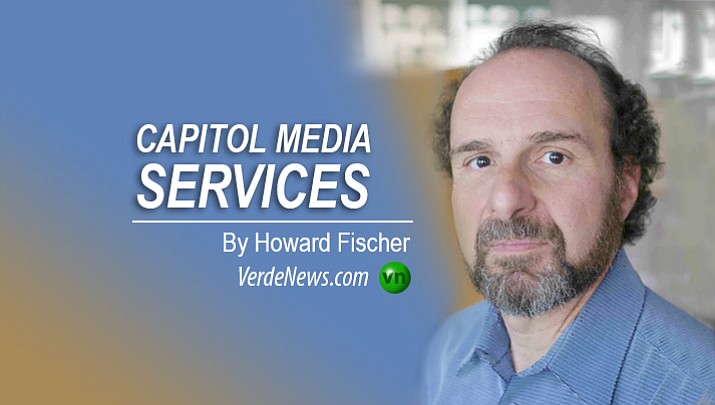 Originally Published: February 13, 2018 1:51 p.m.
PHOENIX -- A national group led by a billionaire hoping to impeach Donald Trump is helping to fund an effort to force Arizona utilities to get half their energy from renewable sources by 2030.
And unlike a plan by Andy Tobin, what constitutes "renewable'' does not include nuclear.
Bill Scheel, a campaign consultant helping set up the petition drive, said Monday there is a coalition of civic and health organizations who do not believe the current renewable energy standard goals set by the Arizona Corporation Commission are sufficient. They require investor-owned utilities to generate 15 percent of their power from what the regulators consider to be renewable -- meaning pretty much anything but coal and natural gas.
Scheel said the coalition wants a more aggressive approach -- and a focus on health versus energy savings.
"Arizona has one of the highest rates of asthma in the country, hundreds of thousands of asthma sufferers, many of them children,'' he said.
"The biggest cause of this asthma epidemic is air pollution,'' Scheel continued. "We've got to get cleaner air to make a dent in that number of asthma sufferers.''
Barbara Burkholder who handles legislative matters for the Arizona Asthma Coalition, acknowledged that vehicles also are a prime source of pollutants that can affect people. She said that is why her group is backing legislation to enact California-style emission limits on vehicles.
Burkholder said the effects of burning fossil fuels is not limited to those downwind.
She said these power plants pump carbon dioxide into the atmosphere which raises temperatures. And Burkholder said higher ambient temperatures increase the conversion of other pollutants into ground-level ozone which is a major irritant and cause of asthma and other breathing problems.
But Scheel said organizers of the initiative, do not believe it is appropriate to include nuclear power plants in what is considered renewable, even if they do not have smokestack emissions. Here, too, he said, that is because the focus is on health.
"One of the things we know is that the mining of uranium around the Grand Canyon and on the Navajo Reservation, in fact, has contributed to high rates of cancer in some of those communities,'' Scheel said. "Nuclear is not clean and has health impacts right here in Arizona.''
Getting the 225,953 valid signatures by July 5 to put the proposed constitutional amendment on the ballot won't come cheap. Scheel said it will take "millions of dollars'' not just to qualify for the ballot but then to convince Arizonans to support the measure in November.
That's where NextGen America comes in, a political advocacy group set up by billionaire Tom Steyer.
"Climate issues are something that have always been really, really important to Tom,'' said NextGen spokeswoman Aleigh Cavalier. More to the point, she said that Steyer has concluded that President Trump is not interested in environmental issues.
So Cavalier said he and NextGen have decided it can have the most impact on a state level, especially in places like Arizona which allow voters to set policy at the ballot box. And she said Steyer and NextGen are prepared to do "whatever it takes'' to qualify the measure for the November ballot and convince voters to go along.