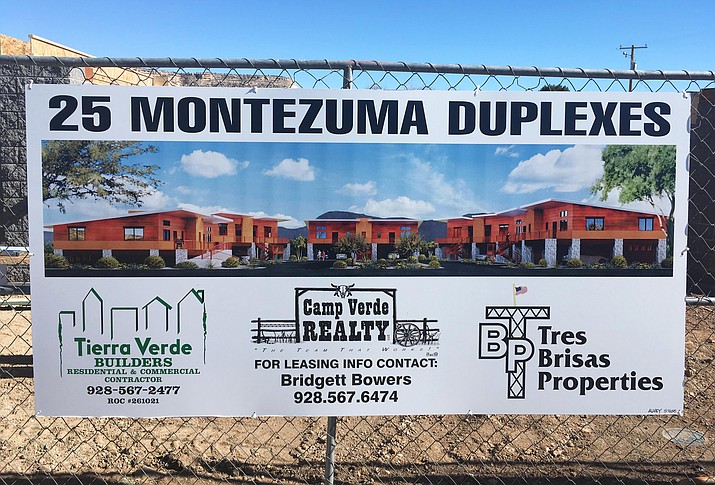 Originally Published: January 27, 2018 1:03 p.m.
CAMP VERDE – By late-August, Tierra Verde Builders should finish construction on five duplexes south of the Camp Verde library along Montezuma Castle Highway, according to Ben Bassous, owner of the family-run residential and commercial contracting business.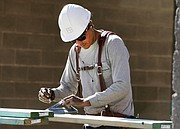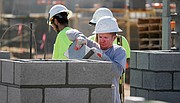 According to Bassous, three of the apartment buildings will have two two-bedroom 991-square-foot apartments. The other two buildings will be one bedroom, 730-square-foot units.
One of the units will be what Bassous called an "accessible unit."
Each of the units, Bassous also said, will have an 8-foot deck at the front of the apartment.
The duplexes, though single story, are being built as two-story structures with parking underneath the units, Bassous also said. With the exception of the accessible unit, the other apartments will each have two underneath parking spaces and two exterior parking spaces.
The underneath parking spaces, much like carports under the raised apartment, will have eight foot of clearance, Bassous said.
Though the property's owner has not set the rent for the apartments, Camp Verde Realty has already taken several applications for the apartments, according to property manager Bridgett Bowers.
"They're going quickly," Bowers said of the units that are beginning to be rented out essentially sight unseen.
Bowers also said that the property owner has yet to set the rental price for the apartments.
"We definitely have discussed the rent," Bowers said. "Fortunately this home owner is trying to keep them competitive."
To move into one of these apartments, prospective renters should be prepared to have first month's rent, a security deposit which would be equal to one month's rent, as well as a $350 cleaning deposit.
"All deposits are refundable," Bowers said.
For more information about renting one of these new apartments, contact Bridgett Bowers at 928-567-6474.
-- Follow Bill Helm on Twitter @BillHelm42