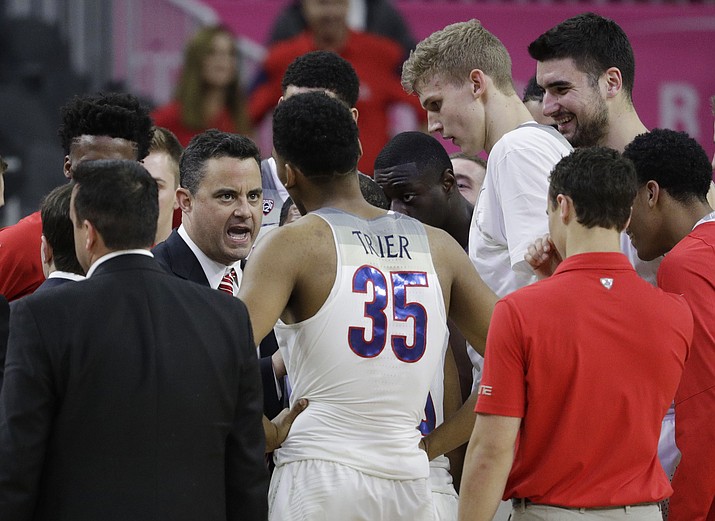 Originally Published: March 3, 2018 12:25 p.m.
A week ago University of Arizona men's basketball head coach Sean Miller's coaching career was dead and buried.
After ESPN published a story that alleged that Miller had offered $100,000 to former sports agency employee Christian Dawkins to get Deandre Ayton, figurative lynch mobs had formed. ESPN personalities Dick Vitale and Jay Bilas ripped Miller, with Vitale saying it's "time to start packing the bags!" and Bilas saying the scandal is "career ending."
Even former Wildcat Jason Terry said the UA needs to clean house. Apparently Terry forgot he was busted for taking money from agents, which caused Arizona to vacate its 1999 NCAA tournament appearance.
Oops.
This is all based on a story was shaky at best, written by Mark Schlabach, not one of ESPN's usual college basketball reporters. It seems like usually stories like that are written by people who have a lot of contacts and sources in college basketball. Schlabach, who went Twitter silent once people started debunking his story, seems to be more of an expert on Duck Dynasty, at least according to Google.
As last week went on, more and more people questioned Schlabach's story before finally on Thursday Miller read a statement where he denied wrongdoing and ripped the accuracy of the report. Since he had the press conference at the UA and wearing an Arizona shirt, it was obvious his one game exile was over and then later in the day the Arizona Board of Regents, the Jedi Council of the state's public universities, met and confirmed that Miller would remain as head coach.
Earlier in the week Pat Forde of Yahoo!, who has written extensively on the continuing FBI investigation of the college basketball, said on a Louisville radio station that he hadn't seen anything that implicated Miller. Forde's reporting was based on documents and bank records they've obtained.
It seems that Schlabach hasn't heard the wiretap recording or read a transcript of the recording that he is basing his career on and that the source wasn't from the FBI, but a defendant.
Yikes.
ESPN has corrected the original story three times and on Thursday Sports Illustrated reported that ESPN's story was inaccurate. The SI cites a source that said the wiretapping didn't start until 2017, something 247 Sports reported earlier in the week.
As of press time, ESPN is going with the story that in 2017 Miller discussed paying $100,000 to Dawkins "to ensure star" Ayton signed with the Wildcats.
Ayton committed to the UA in Sept. 2016 and signed with Arizona in Nov. 2016. Media in Arizona reported that Ayton enrolled at the UA June 19 2017 and Sports Illustrated and 247 Sports reported that the wiretaps of Dawkins started in 2017, with 247 saying they were recorded from June 19 2017 to Sept. 25.
On Sept. 26 Dawkins was arrested.
So basically ESPN is saying that Ayton, who is from the Bahamas, moved to Phoenix to go to high school, went through all the NCAA red tape to became eligible to play American college basketball and then risked it all for less than $100,000 ($1K minus the agency's cut) and risked the eligibility after he had already moved to Tucson. Oh and is projected as the possible No. 1 pick in the draft, so $100,000 isn't exactly a huge amount to him.
That makes a lot of sense – a lot of nonsense.
On Friday after the Arizona Board of Regents met and after Miller held a press conference denying the "reporting" from ESPN, UA President Robert C. Robbins said if the FBI had evidence against Miller he would have been arrested.
Earlier in the week regent Jay Heiler, an attorney who majored in journalism at Arizona State University, said to azcentral.com that the ESPN piece was "unacceptable journalism."
"I found the complete lack of context around the reported content to be frankly unacceptable when measured against journalistic standards that I've always believed in," Heiler said to azcentral.
The lesson here is don't jump to conclusions. The FBI told the NCAA to wait until its investigation is done before it gets started with its probe, so fans, reporters, columnists, schools, etc. should also.
After former UA assistant coach Book Richardson was arrested, Bilas tweeted "I know Sean Miller to be a man of great honesty and integrity. I don't believe for a second he knew of any improper behavior."
Perhaps feeling betrayed, the former Duke player turned ESPN analyst, went off on Miller on ESPN College GameDay on Saturday.
Then on Thursday Bilas spoke to the Arizona Daily Star about Miller and sounded embarrassingly bad, constantly saying "I trust the reporting of Mark Schlabach" as if one of his bosses at ESPN ordered him what to say.
At least he didn't mention the Fifth Amendment or just flat out deny obvious facts someone from the Trump administration.
He made the mistake of going too bold twice and now he sounds like a fool.
Fans are also getting burned by speaking too soon. When the UA played at Utah on Jan. 4, Ute fans lambasted Arizona with taunts like "U of Pay." Then on Feb. 23 the latest Yahoo! piece on the scandal, which also had Pete Thamel on the byline, came out and reported that former UU player Kyle Kuzma received at least $9,500 while he was in school.
Awkward.
The Yahoo! story featured players from many college basketball powers, like Duke, North Carolina and Kentucky, just as we were warned months ago when reports said the fallout from this scandal would rock college basketball.
In fact, even schools not known for men's basketball have been caught up in this scandal. It's like #MeToo on steroids.
When the rivals met in Tempe on Feb. 15, ASU fans taunted UA players, coaches and fans about the FBI scandal. But this was right after the Sun Devils accepted a commitment from Taeshon Cherry, who the Los Angeles Times reported was included in the federal criminal complaint against USC associate head coach Tony Bland. Cherry had originally committed to USC.
We just don't know who will be next, so just put all the "this guy needs to be fired" or "they need to sit out the NCAA tournament" talk on hold.
The talk that UA should sit out the NCAA tournament has gone on for months but why should they? What if they do and someone like North Carolina wins and their title is later vacated?
On Thursday night when Miller returned to coaching there was a fan dressed as him with a giant "VINDICATED" sign.
Was he? We don't know.
We only know a few things right now, like that the very credible Yahoo! story didn't have UA players in it, but that the former Arizona assistant Richardson was arrested and the investigation is ongoing.
Don't jump to conclusions like ESPN, who also reported on Saturday that Miller had been fired and then tweeted on Thursday that UA guard Allonzo Trier's two-week suspension was ending.
Although it had felt like a lot longer, his suspension had only been a week.